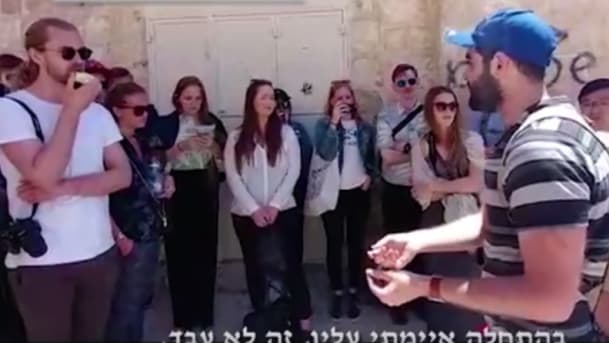 The State Prosecutor's Office reversed Sunday its decision to close an investigation against Breaking the Silence spokesman, saying an incident he described in which he beat a Palestinian detainee in Hebron had indeed occurred, in a case seen as a test of the anti-occupation group's credibility.
Deputy State Prosecutor Nurit Litman said, however, that the case would remain closed, and that the force spokesman Dean Issacharoff used against the detainee, who was suspected of hurling stones, "was crucial to making the arrest."
Issacharoff served as an officer in the Nahal infantry brigade at the time of the incident.
Breaking the Silence is an organization that collects testimonies from Israel Defense Forces soldiers and veterans about their service in the Palestinian territories of the West Bank and Gaza Strip. The testimonies are generally anonymous, leading many to question its credibility.
In an unusual move, Issacharoff declared publicly in April 2017 that he had assaulted a Palestinian during his army service in Hebron in 2014.
Issacharoff's statement was released by Reservists at the Front, a group that opposes Breaking the Silence. Numerous organizations and officials, including then Justice Minister Ayelet Shaked and Defense Minister Avigdor Lieberman, demanded a criminal investigation, which the prosecution ordered the police to launch.
In November 2017, the prosecution closed the case, claiming the assault had never happened. Breaking the Silence released a videoin an attempt to prove Issacharoff's assertions. The clip showed Issacharoff leading a handcuffed Palestinian with facial injuries, but didn't show the arrest itself or the violence Issacharoff claimed to have used.
Issacharoff claimed that the police had questioned the wrong Palestinian, Hassan Julani, and preferred to close the case in an effort to undermine the organization's credibility. After the case was closed, a soldier who served alongside Issacharoff, gave testimony corroborating his claims, saying the Palestinian whom Issacharoff hit was named Faisal al-Natsheh.
In light of the new information, the prosecution reexamined Issacharoff's assertions.
Litman released a statement, saying that "After examining all the additional evidence, I came to the conclusion that nothing points to changing the original decision to close the case for lack of blame. Following the additional examination there is indeed a doubt regarding the man arrested in Hebron to whom Issacharoff was referring, and it certainly could be that the man arrested by Issacharoff was Natsheh and not Julani. Nevertheless, the initial conclusions we had reached regarding Issacharoff's conduct remain in force."
She added that in contrast to what Issacharoff had said in his public declarations, which implied that he had been unnecessarily abusive, when questioned by police he minimized the extent of the force he had used against the Palestinian. He stated he had to use force to handcuff the detainee, otherwise he wouldn't have been able to subdue him.
Attorney Gaby Lasky, who represents Issacharoff, said, "The prosecution in its latest announcement admits that it investigated the wrong incident, and as a result its claim that my client had lied was based on totally irrelevant evidence. It's unfortunate that Litman didn't choose to announce in clear language that she had erred, which would have been the right and proper thing to do. It's now clear to everyone that her previous stance has been invalidated, and that must be stressed."
["source=haaretz"]