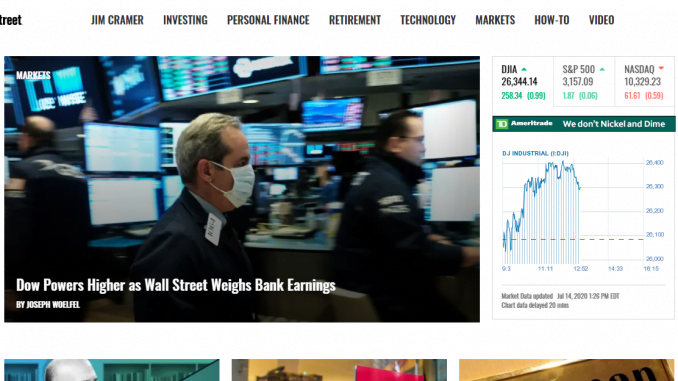 Over the past weeks, PR Newswire has distributed numerous earnings press releases from publicly listed companies that have released their second-quarter financial results. The current earnings season is closely watched as investors are keen to understand how companies have been impacted by a full quarter of economic shutdown caused by the COVID-19 pandemic.
Amid the flurry of investor relations updates and announcements, we look at some international and APAC financial news websites to help you get up to speed on the finance world.
Bloomberg offers business news coverage from more than 150 bureaus across over 70 countries. With an extensive global network, Bloomberg offers round-the-clock coverage of stocks, bonds, commodities, emerging markets and forex markets. Apart from its website and TV channels, market information and news are also delivered through its trademark Bloomberg terminals sitting on the desks of professional traders worldwide, delivering customized market charts and news feeds that are checked throughout the day. Bloomberg's key audiences include professional investors, executives and government policymakers.
Partnership with PR Newswire: On Bloomberg's dedicated listed company pages, readers will view stock charts, key statistics, board members and a "Press Releases" section. These press releases are also available to Bloomberg terminal subscribers.
For Investment News: TheStreet
TheStreet focuses on financial news and financial literacy. Founded by Jim Cramer, host of CNBC's Mad Money and a former hedge fund manager, TheStreet has an entire section dedicated to stock analyses by him.
The website also covers areas such as investing, personal finance, retirement, technology and markets. For those who prefer to get information through videos, there is an extensive How-To section that covers numerous questions on personal finance. Paid subscriptions are available for investors looking to get access to even more resources such as market analyses and stock picks. Investors, financial advisors and academics are among the key visitors to this portal.
Partnership with PR Newswire: While PR Newswire content is still available on TheStreet's author page, users need to subscribe to one of its paid specific products to search for public company news.
Morningstar is a leading provider of global independent investment research of mutual funds and other investments. It is known for its rating system for funds on a one-to-five scale, which is based on a fund's portfolio analysis, performance, historical risk and return, fees and expenses as well as other key indicators. Positive ratings on Morningstar can bring additional credibility to a fund's strategy. You can use this site to research and evaluate your current and potential investments. Morningstar counts asset managers and investors as part of its key viewership.
Partnership with PR Newswire: On a listed company's page on Morningstar, readers will see stock charts, key ratios, 'Morningstar's Analysis' and the latest company news including press releases.
For Tracking Investments: Seeking Alpha
Seeking Alpha is an investment community and news aggregation site compiling the top stories from financial news sites. The homepage includes top news stories and trending stocks. A free membership option gives readers access to stock analysis and investment newsletters and lets them create alerts for specific authors. Paid memberships are available if you're looking for more exclusive features like earnings and conference call slides and recordings, investment tracking, and more. Seeking Alpha is read by investors, key decision-makers and academics.
Partnership with PR Newswire: On a listed company's dedicated page on Seeking Alpha, readers will see stock charts, revenue trend charts, analysis, company profile and a "Press Releases" section.
For Tracking News and Investments: Yahoo! Finance
Yahoo! Finance, which is part of American media giant Yahoo!, provides finance news on stocks, currencies, commodities that are aggregated from newswire agencies such as Reuters and Associated Press and other finance and investment websites like Motley Fool. Besides news, Yahoo! Finance provides free stock quotations, mortgage rates and financial reports and international market data. Other nifty website functions include watchlists for users to monitor the performance of their stocks and screeners to search for relevant equities, mutual funds and ETFs. Yahoo!, which is a subsidiary of Verizon Media, receives over 600 million monthly unique visitors.
Partnership with PR Newswire: On Yahoo! Finance's dedicated listed company pages, readers can view stock charts, key statistics, board members and a "Press Releases" section. The site also hosts corporate press releases that are distributed by PR Newswire.
If you're looking for financial news and updates that cover the APAC region, here are some websites to bookmark:
1. ET Net (Hong Kong)
A member of the Hong Kong Economic Times Group, financial website ET Net, which was launched in 2000, provides a comprehensive range of financial information to retail investors for free. Besides stock-related channels like Futures, Warrants, ETFs, ET Net also provides news and updates from other major channels like Forex and Mandatory Provident Fund (MPF).
Partnership with PR Newswire: Finance-related press releases, which are in Traditional Chinese and distributed by PR Newswire are hosted on ET Net here. Some of the press releases can also be found on its News page.
2. Money FM89.3 (Singapore)
MONEY FM 89.3 is Singapore's first and only business and personal finance radio station. Operated by Singapore Press Holdings, the radio station features a 24-hour English talk format. It covers local and international business and financial news on markets and currency updates and gathers insights from analysts, economists, policymakers, industry experts and business owners on trending issues in the finance world. Its website's newsfeed compiles business news from finance broadsheet The Business Times.
Partnership with PR Newswire: On Money FM's homepage, the latest finance news and press releases distributed by PR Newswire can be found in the 'News Feed' section.
3. Money Compass (Malaysia)
Money Compass is a publication/portal that aims to raise awareness of financial planning in the fields of wealth management. Key topics that it covers include wealth protection, wealth creation, wealth preservation and wealth distribution. Money Compass also closely tracks the development of business environments and economics with dedicated sections for SMEs. With a team of professional advisors, columnists and article contributors, Money Compass reports on the latest developments, market intelligence and provide up-to-date analysis to help readers make adjustments to their financial plans.
["source=prnasia"]