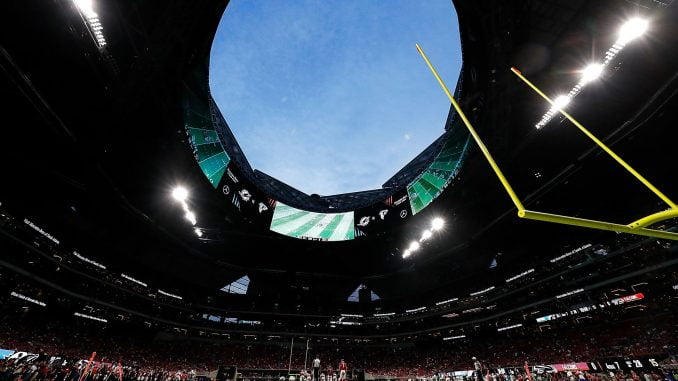 More than a million people are expected to visit Atlanta for this year's Super Bowl game at Mercedes-Benz Stadium and related events. While Super Bowl LIII will be played on Feb. 3, 2019, Atlanta is also playing host a week-long festival leading up to the big faceoff between the AFC championship and NFC championship teams.
So how much will it cost you to get in on the action? You'll need to allocate the bulk of your budget toward the tickets, but you'll also need to shell out for weekend costs including transportation, lodging and food.
Overall, be prepared to spend roughly $4,000 for a bare-bones trip to $18,100 for a surreal experience. Here's how it breaks down.
Getting into the Game: $3,475 to $15,925
Individual tickets to attend the Super Bowl in-person hit a record high last year, and this year's game is shaping up to be no different. Last year, the average resale ticket price was $5,682, according to SeatGeek, while 2017 prices were $4,487.
Fans should expect to pay between $4,000 and $6,000 for a ticket this year, Scott Jablonski, General Manager of NFL for StubHub. "Historically, at this stage, we typically see ticket prices in the $5,00-$6,000 range going into the championship weekend," he says. Generally, the prices stabilize on Sunday and Monday once the teams are set.
On Friday, the cheapest ticket price for seats in the upper endzone section were selling on StubHub for $3,475 each. Jablonski says that for those looking to score the ultimate deal, they'll need to wait to the bitter end. "Usually as you get closer to game time, I'm talking six hours, three hours, one hour into kickoff, then we'll see the prices come down," he says. That's because at some point, for the seller, that ticket is worth zero.
For those looking for the complete Super Bowl experience, On Location Experiences (the "official hospitality of the NFL") is selling game day packages for $15,925 per person for seats five rows back from the field. They include tickets to the game, a three-hour pregame party, meet and greet opportunities with NFL stars and post-game field access for a "confetti-filled celebration."
Transportation to Atlanta: $64 to $220
If you're planning to fly to Atlanta for the Super Bowl, the average flight deal is currently $220 for roundtrip flights within the U.S., according to predictive travel app Hopper. But demand tends to spike following the playoff games, according to Hopper's data experts. So expect prices to rise by as much as $10 per day leading up to the big game.
If you're looking to save some money and drive to Atlanta, fans from New Orleans and Kansas City, Kansas probably have the best deal. CNBC Make It estimates that using a car with an average fuel economy and tank size, a roadtrip from New Orleans or Kansas City to Atlanta will cost $64 and $109, respectively, in gas (thankfully the national average is under $2.50 per gallon at the moment).
["source-cnbc"]