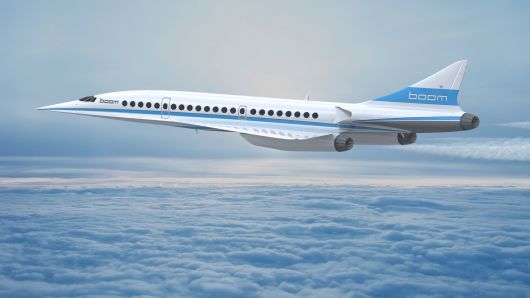 It's been over 15 years since Concorde was up in our skies flying faster than the speed of sound but there are some working to bring supersonic transport back for commercial use.
CNBC takes a look at the companies currently developing supersonic passenger jets:
Boom's founders hope its 55-seater plane will be 30 percent more efficient and 30 times quieter than the Concorde.
In early January, the Colorado based company Boom Supersonic reportedly closed a $100 million series-B investment round to support the development of its mach 2.2 airliner, Overture. Total funding for Boom now stands at $141 million.
Boom says that it's supersonic demonstrator plane, the XB-1, will break the sound barrier in 2019 for the first time and will reach Mach 2.2 shortly thereafter in subsequent testing.
Aerion is developing a 12-seater business jet that has the capability of flying direct from New York to Sao Paulo and London to Beijing.
It's planning to develop bigger and faster variants of the AS2, including potential commercial models.
The preliminary design phase is expected to conclude in 2020. Aerion are working in partnership with American aero and defense company Lockheed Martin to develop the AS2.
Lockheed is also working with Nasa on creating a quieter supersonic commercial plane called the X59 QueSST and is attempting to reshape the conventional design of a fixed-wing aircraft to solve the issue.
Boston based Spike Aerospace claim the S-512 will be the fastest civilian aircraft available.
It's developing a 12 to 18 person quiet supersonic jet that is aiming to fly Dubai to New York non-stop in nearly half the time it currently takes a subsonic aircraft.
They are developing the $125 million plane with the help of Greenpoint Technologies and Siemens.
But if supersonic's not fast enough …
Boeing have released a model of a hypersonic plane.
Hypersonic planes will be traveling at Mach 5. Five times the speed of sound. That's 3,836 miles per hour. Meaning the plane would take just under two hours to complete the Sydney to San Francisco journey. Around two and half hours quicker than a supersonic aircraft.
["source-cnbc"]