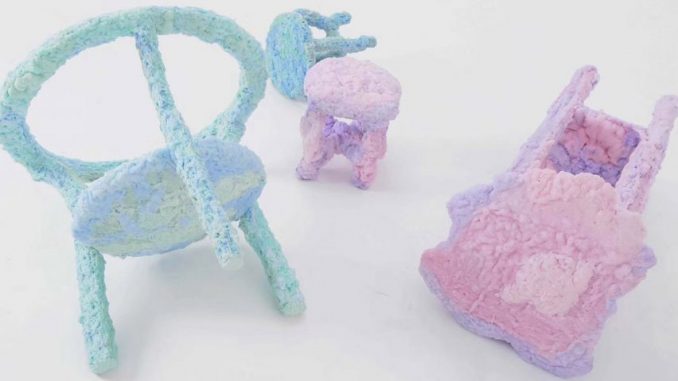 Bubbling forms of silicone foam cover the furniture pieces in Chinese studio Lewu's Borrowing for Birth collection, which was launched at Design Shanghai this month.
To create the collection of tables and stools, the studio covered second-hand furniturepieces with a viscous liquid solution that releases hydrogen and bubbles to form a silicone foam.
The erratic nature of the coloured liquid as it foams and hardens to form a frothy shell creates an organic jumble of shades and textures.
"The natural growth of the silicone material brings unpredictability to the results," said Lewu.
The studio gathered abandoned furniture found at second-hand markets near their base in Hangzhou to form the structure of their designs.
"Furniture is constantly replaced and abandoned in people's lives. They become garbage and useless in the waste market," Lewu told Dezeen. "We're trying to give new life to wasted things, to reflect on what it is, to help people take a new look at abandoned objects."
Presented at this year's Design Shanghai, which took place between 6 and 9 March, the Borrowing for Birth collection aims to explore the relationship between materials and nature.
"We think that designers should not conquer materials, but listen to them," Lewu said. "The subject of creation is no longer man but material and nature, so designers are like nature's assistant."
When creating the collection, Lewu was inspired by the way natural phenomena like coral and moss attach themselves to the surface of objects. The designers wanted to recreate this idea with silicone foam.
"We think that foaming materials can also parasitically attach themselves to the surface of an object in a way," explained the studio.
"The tactile feeling of the original object is changed after attachment, and it becomes wonderful and elastic at the same time," said Lewu.
Using a similar method of smearing furniture with a liquid that hardens to form a foam, the studio moved the collection on by developing the Thorn table.
It features a bubble-like mass that has been pierced by neon green-painted bamboo sticks, intended to reflect the conflicting and struggling nature of the human psyche.
"Thorn conveys the relationship between the constraint and struggle of the id and ego: mutual constraint and break-off," said the studio.
The regular geometric bamboo sticks and the natural foaming, coloured bubbles form an interesting conflict and contrast," explained Lewu.
["source=dezeen"]