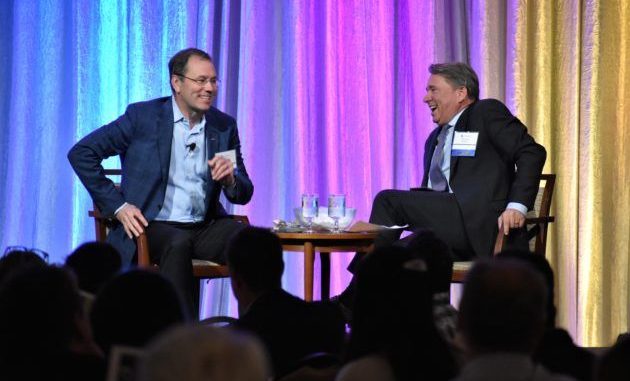 There was a heavy aerospace spin to this year's State of Technology Luncheon,presented today by the Technology Alliance at the Seattle Sheraton.
Alaska Airlines CEO Brad Tilden was the keynote speaker for what's been billed as "the premier annual event of Washington's innovation community."
Three other aerospace executives had their time in the spotlight as well, and hundreds of representatives from the tech industry, academia and government were in attendance.
Here are a few highlights from the event:
We're all tech companies now: During an onstage fireside chat, Nordstrom chief digital officer Ken Worzel asked Tilden whether he classified Alaska Airlines as a technology company. "Absolutely," Tilden replied. "I bet every single person in this room thinks of where they work as a technology company. It's hugely, hugely important to us."
What about my Wi-Fi? One of the biggest applause lines came when Tilden responded to a question about the slowness of in-flight Wi-Fi. "Gogo is getting better," he said. "We have 225 airplanes with Wi-Fi, 25 of them have satellite [connectivity]. Satellite is 20 times faster than ground-based Wi-Fi. All the airplanes will be done 12 months from now. … It's not going to be as fast as your 1-gigabit home computer, but it will be as fast as your mobile phone, and you'll be able to download and stream."
A vote of support for Boeing: Tilden said Alaska Airlines is remaining "hugely loyal to Boeing" as the airplane manufacturer works through issues that have arisen in the wake of two catastrophic 737 MAX crashes. Software updates are soon expected to address problems with an automated flight control system on the 737 MAX. "Our team has looked at them," Tilden said of the updates, "and we're satisfied that they're the right changes."
Debut for Digital Winglets: APiJET CEO Tom Gibbons showed off his company's "Digital Winglets" app, which monitors and analyzes an airplane's vital statistics and crowdsourced situational data in real time to optimize the plane's fuel usage and route during a flight. "It's Waze for your airplane," Gibbons said, referring to the popular traffic and navigation app. Today the company announced that it was partnering with Alaska Airlines to develop NASA's Traffic Aware Strategic Aircrew Requests technology and deploy it across Alaska's entire fleet. APiJET's suite of optimization apps also makes sure airplanes are serviced in a timely manner during on-the-ground turnarounds, and keeps track of an airplane's operational health.
Electric aviation on the horizon: MagniX CEO Roei Ganzarski recapped his electric propulsion company's recent deals to retrofit Harbour Air's seaplanes with electric motors, and provide a propulsion system for the all-electric plane being developed by Eviation. Ganzarski said that Harbour Air's first converted all-electric plane would make its first test flight in November, and that Eviation's Alice airplane would have its first flight by the end of the year. "The one thing I would love to see this state do is take the lead in the United States," he said. Ganzarski suggested that Washington state could encourage short-haul airlines to go all-electric by, say, 2050.
The space gold rush: Spaceflight CEO Curt Blake talked up his company's logistical role in last year's 64-satellite launch, this year's launch that sent Israel's Beresheet lander on its trip to the moon, and other satellite missions. "I was downtown in Pioneer Square not long ago, and I went by that Alaska gold-mine museum," Blake said. "And I thought, that's not really unlike what we're doing. The people in Seattle were selling tickets to get up to Alaska, they were selling picks and shovels. … We're basically doing the same thing: We're providing the means for people to get to outer space and really fulfill their dreams, commercializing what's up there — hopefully to make what's down here a little better."
["source=yahoo"]