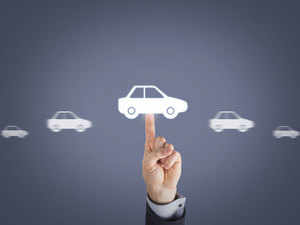 Ahead of Diwali, Pune-based MNC executive Akshay Chillal decided to upgrade to a Maruti Swift AT. "I had three options," says the 28-year-old. Buy a new car with a down payment and a car loan; dip into savings to buy a second-hand car or sign up for a car subscription. He chose the third and opted for the services of self-driving platform Zoomcar, ZAP Subscribe. "I had read about it on Facebook. It was a new concept. I had my fears. But after exploring options, I decided to go for a six-month subscription," he says.
After paying Zoomcar Rs 2,100 as refundable security fee and agreeing to a monthly subscription of Rs 24,638, Chillal got a new Swift delivered to his doorstep. He has to pay for fuel. Zoomcar takes care of other expenses (insurance, maintenance et al). Not only that, Chillal even earns from his rented wheels.
As he mostly uses the car during weekends, he lists his car on Zoomcar.com, which also offers self-driving rental options for shorter durations. "November was crazy. As I was barely using my car, I listed it as available for 20 days a month and earned Rs 20,500." The amount got adjusted with his monthly fee. In December, he earned Rs 18,000. But he quickly adds a word of caution: "People have a misconception that they can earn more than the subscription fee from listing. I want to clarify that earning from the listing is not guaranteed."
Akshay Chillal (28) & Heena Garg Chillal (28), Pune
The couple, MNC executives, own a scooter. They upgraded to a car last Diwali
Subscription Rationale
Uncertain about his future, he was not keen on buying a new car on loan or dipping into his savings to buy a used one. So he opted for a subscription. Listing on Zoomcar helps subsidise his monthly rental.
Cost Factor
He pays Rs 24,683 (all inclusive) a month to Zoomcar for a Swift AT.


Zoomcar guarantees Rs 10,000 for a car listed as available for 20 days a month, including weekends
Initially, Chillal was worried about potential misuse and damage to his car in the hands of a renter. But Zoomcar allayed his fears. "When the car is picked up and dropped, customers must sign a detailed checklist on the condition of the car. In case of any damage, it is Zoomcar's headache to fix it," he says.
The experience has encouraged Chillal to think of extending his subscription period.
Chillal is part of an early trend being closely monitored by the car industry globally. Led by millennials with a penchant for an asset-lite lifestyle and in a world where the flexibility of renting is trumping rigidities of ownership, CAAS or cars-as-a-service is emerging as a preferred option. As a trend, product as a service has already played out in multiple sectors — from software as a service in technology to farm and medical equipment, photocopiers and private jets. It is nowadays common to rent a house and furnish it with products on rent. Even white goods are available for rent. Now, the rental economy has made its foray into the automotive world.
If the car subscription model picks up, it will infuse new dynamics into the way Indian consumers own and drive their cars. It will further intensify the disruptive onslaught Motown India is facing. Technology reset (from internal combustion to electric vehicle or EV), policy update (leapfrogging from BSIV to BSVI emission norms and new safety norms) and ride-hailing apps like Ola and Uber are some of the big change drivers in the automotive industry.
Interestingly, subscription services add a reverse twist to the rent or buy debate. In the early 2000s, young and aspiring homebuyers began asking if they should rent or buy. Within two decades, buying a house earlier on in life became the norm among middle-class Indians. After a house, a car is the costliest physical asset that Indians usually buy. This makes CAAS a trend that experts within the auto industry and outside will keep a close eye on.
Mehak Allawadhi (25), Bengaluru
After an expensive wedding, buying a car was tough. They found subscription was hassle-free and offered compelling cost economics
Subscription Rationale
Last June, they took a six-month subscription to bring home a Swift (manual)
Cost Factor 
Monthly rental is Rs 22,400. They just extended the subscription by 6 more months

A car subscription is similar to leasing — the vehicle is owned by the company and not the customer. But the difference is that leasing generally has more rigid rules. Agreements are usually for three years or more. A stiff foreclosure penalty is levied. So leasing does not bode well for customers looking for flexibility and multiple options.
"The concept is new and niche in India. The model's profitability is a question mark. But subscription caters to millennials' fuss-free lifestyle well which India has aplenty," says Puneet Gupta, associate director (automotive forecasting), IHS Markit.
Globally, the trend began with luxury carmakers like BMW, Mercedes and Porsche. In recent times, though, it has trickled down to other segments.
There are three sets of players globally: automobile firms, leasing companies and others. Offerings by automobile firms include Care by Volvo, Maven (GM), Book By Cadillac and Ford Canvas (for used cars). Leasing companies like LeasePlan have also entered the fray. Then there are thirdparty companies, mostly startups, like Flexdrive that allow a customer to pay weekly. Another example is Less, available in the San Francisco Bay Area, which has something like a traditional lease but allows a model change once a year in a three-year contract. Los Angeles-based Justborrow. com offers electric car subscriptions. Another startup in the space, Fair, created a lot of buzz in December when it raised $385 million in a funding round led by Softbank.
In India, two startups drove into this field over the last 12 months — Zoomcar and Revv. M&M, the only automobile company, started offering a lease plan in October.
Zoomcar's ZAP Subscribe offers new and old cars for a monthly fee (including maintenance, GST and insurance). Subscriptions can be of 6, 12, 18 or 24 months. And it gives people like Chillal an earning opportunity. "Average car utilisation rate in India stands at just 6%. ZAP Subscribe offers the option to share a car and leverage the idling time," says Greg Moran, founder, Zoomcar.com.
Ritesh Rane (28), Mumbai
The businessman owns a Honda Accord but wanted a second car
Subscription Rationale
Getting a new car of his choice with no down payment, no maintenance headache and the flexibility to return were big factors.
Cost Factor
He pays Rs 27,988 (all inclusive) a month to Revv to zip around in a Honda Amaze.
All formalities are done online. Once a customer signs up for a listed car via an app, she gets a message showing where the car is parked. The car's keys and documents are kept in the glove compartment. During pick up and drop, the customer can open the car's lock using the app.
Of the 6,000 vehicles, that Zoomcar has, 3,000 are on ZAP Subscribe. They have speed governors and trackers. Customers can drive up to 8,000 km a month. After that, they are charged Rs 1/km. "We thought most of our subscribers will be young and under 35. But that's not true," says Moran. Clients include expats, people on shortterm assignments in India and those who might move cities often.
The other major player in the space, Revv, was started by former McKinsey executives Anupam Agarwal and Karan Jain in 2015. It rolled out a subscription service, OPEN, in November. With Hyundai Motors among its investors, Revv has 1,700 cars across 19 cities. OPEN has got 2,337 customer applications and already signed up 53.
"Car, model, variant, colour will be exactly what you want on OPEN," says Jain. It offers unlimited maintenance coverage and buyback opportunity. But there is no listing option as of now. It limits free monthly usage to 1,500 km and charges one-year insurance premium with the first subscription payment. "Our biggest pitch is you get a new car with convenience, flexibility and zero-maintenance headache," says Agarwal.
Zoomcar, on the other hand, does not guarantee a new car, does not charge one-year insurance, offers a listing option, has a monthly usage limit of 8,000 km and limits maintenance coverage (Rs 1/km for compact and Rs 1.5/km for others).
These are early days in the car subscription market, so players are likely to fine-tune their models as business gathers momentum.
Car makers have taken note of the shift in buying behaviour. M&M has even jumped into the space. It has reportedly invested Rs 176 crore in Zoomcar and rolled out lease services with Orix and ALD Automotive. "Car leasing has 45% penetration globally, against 1% in India," says Veejay Ram Nakra, head of sales and marketing (automotive division) at M&M Ltd. "With a larger shift towards subscription-based service, we aim to offer a full suite of mobility options."
Changing Habits
Multiple factors will potentially boost subscription demand. "Average car utilisation rate in India is around 5%. Taxi aggregators have moved it up to 15%. Subscription model will improve it further," says Gupta. In a volatile uncertain economic situation, subscription offers a convenient and flexible way to have a car without feeling stuck. The service is particularly appealing to young buyers who prefer to rent rather than buy and often can't afford the hefty down payment. It may also be a good option for those who are finding it difficult to get a car loan. A subscription is also a good option for aspirational car buyers who would like to flip and flip out of a car for short periods.
The growth triggers are slightly different overseas. In mature markets like the US, Japan and western Europe, car ownership has lost its appeal and sales have plateaued or are declining. Subscription is helping spur sales. "In countries like Singapore, car-sharing clubs are becoming popular. We expect new mobility solutions to contribute 22% of the automotive industry's revenue in these markets," says Kavan Mukhtyar, partner (automotive), PricewaterhouseCoopers.
India might have a slightly different trajectory. Cars remain a status symbol. Sales growth momentum and ownership appeal are high. A subscription will be more expensive than buying and hence will not appeal to value-conscious buyers. "A high percentage of Indians are first-time car drivers. Accidents, thefts and wear and tear in the subscribed car will be high. We need to wait and see how these startups make money," adds Gupta.
As a trend, subscription holds promise in India where millennials are aplenty. But it may be early to forecast the road ahead for both consumers and startups.
["source=economictimes.indiatimes"]