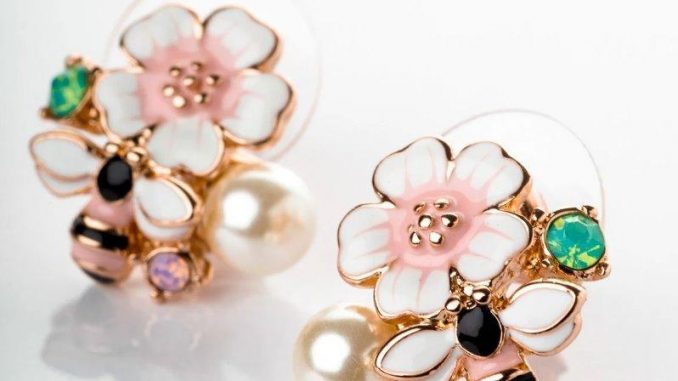 The admirers of finely crafted Fashion Jewelry cannot look over the panache of Enamel Jewelry. Trailing its roots to the 13th century BC, Enamel Jewelry is still the most popular form of artistic Jewelry styled by the Jewelry and fashion enthusiasts all over the world. Enamel Jewelry was first brought to India by the Mughals in the 17th century.
The detailed and elaborate Process of Enameling requires not just incredible skill and an eye for detail but also an extensive technical know-how, which till date remains intensely guarded by the craftsmen who inherited this specialized knowledge from their ancestors. It goes by many names including porcelain enamel, painted glass and vitreous enamel. Meenakari Jewellery, a form of enamel jewellery, was invented in Iran and has widely influenced Indian Jewellery especially Bridal Jewellery.
Looking at the exquisite vogue and popular demand of Enamel Jewellery by the fashionistas, we have curated a splendid range of stunning and beautiful enamel jewellery designed by craftsman from all over the world.
Let's dig in!
Jasmine Blooms Necklace Set
Creating a refreshing appeal with its delicate floral design, this enamel Jewelry is a masterpiece in itself. The lovely Jewelry set embodies the youth of flowers and the freshness of spring. The smooth white enamel finish of the necklace is complemented with purple Austrian crystals and clear Swarovski crystals that makes this flower necklace extremely desirable for the ladies young at heart.
Jasmine Blooms Floral Necklace Set – Blingvine Jewelry
Jasmine Blooms Necklace Set
₹3,200.00
Dinaz Floral Studs
Talking about florals, these refreshing flower earrings are a statement in its own. Plated with 18K Rose gold and dressed up with flawless white enamel work, these statement earrings are your best find in a world of artistic and modern jewellery. Pair it up with a pretty floral print dress and you're good to go for a happening day out or at a party.
Dinaz White Floral Stud Earrings – Blingvine Jewellery
Dinaz Floral Studs
₹1,900.00
Loop of Life Danglers
The versatility of Enamel jewellery makes it a widely admired jewellery choice. It can go from classic and elegant to contemporary and fun. These hoop earrings with neon green enamel work complemented with 18K Rose Gold finish are all about making accessorising exciting and vibrant. These colourful earrings loops are for the times when you want to keep it casual yet amusing. They can instantly transform any look and make you a style diva.
Loop of Life Dangler Earrings – Blingvine Jewelllery
Loop of Life Danglers
₹1,700.00
Alexa Bracelet
Bracelet are one accessory that instantly add personality to your look without having to put much thoughts. Alexa enamel bracelet or arm candy take it to another level by keeping it subtle yet stylish. It has a classy and sophisticated appeal that complements any look from formal office attires to high-profile events where you need to keep it minimal yet chic.
Alexa White Enamel Bracelet
Alexa Bracelet
₹1,600.00
Calligraphy Pendant Set
The Calligraphy enamel pendant set is a befitting personification of sophistication and minimalism. The impeccable white enamel work with 18K Rose Gold plating makes this minimal pendant a charmer for every woman. Pair it with formal outfits, a summer dress or a high-neck sweater, this beautiful jewellery set will make you shine in an instant.
Calligraphy Pendant Set – BlingVine
Calligraphy Pendant Set
₹2,000.00
Seaworld Enamel Danglers
Seashell jewellery or shell earrings are the most artistic and modish forms of designer Jewelry. Seaworld Enamel dangler earrings are all about making a statement with panache. Beautiful Shell motif crafted with 18K Rose Gold plated frame is painted with exquisite purple enamel work and studded with gorgeous shell pearls. Wear it to college, office, parties or to a lunch date with friends, these statement earrings is bound to make heads turn!
Seaworld Enamel Earrings – Blingvine
Seaworld Enamel Danglers
₹1,800.00
Lava Statement Danglers
Red, hot and sizzling? I think these 3 words explain all about these bold and beautiful earrings. These statement earrings are definitely the eye-catcher at any place, time or event. These fashion earrings are tastefully designed with red enamel work and 18K Rose Gold plating to steal everyone's attention in the classiest way possible. Pair it with a denim jacket or a sexy black dress and go casual or put them on with an evening gown for a cocktail party, these are a perfect statement earrings.
Lava Red Long Earrings – Blingvine Jewelry
Lava Statement Danglers
₹1,800.00
Phulkari Slim Enamel Danglers
Sleek and smart floral earrings to elevate your look and personality. The intricate and colorful enamel work jewellery with fine design and 18K Rose Gold plating can win hearts of every person. Pair it up with a pretty saree, evening gown or a dress, it won't disappoint you.
Phulkari Slim Enamel Long Earrings – Blingvine Jewelry
Phulkari Slim Enamel Danglers
₹1,800.00
Avin Studs
When it comes to keeping it minimal with a little bling, Avin stud earrings are your best pick. The pink colour faux cat-eye stone in the centre and intricate colourful enamel work makes these simple earrings a stunner in its category. A perfect office wear earrings that can go with western as well as traditional outfits. A must-have earrings in your jewellery box.
Avin Stud Earrings – Blingvine Jewellery
Avin Studs
₹1,600.00
Queen Bee Studs
A perfect combination of cute and charismatic. These cute small earrings are all about keeping it fun with a statement. The small bee detailing catches the attention of anyone who has a taste in artistic jewellery. The intricate flawless enamel work coupled with Venetian Pearl and Austrian crystals, make these statement earrings perfect for any occasion or attire.
Queen Bee Studs – BlingVine
Queen Bee Studs
₹1,500.00
Runway Ready Danglers
Inspired by the latest runway fashion, these statement earrings are all about keeping it trendy and sharp. The black and white combination of these designer fashion earrings make it an all-purpose jewellery choice for any occasion. A meticulous craftsmanship using Mother of pearl, black enamel work, Swarovski Crystals, and 18K Rose Gold plating. Pair it with traditional, western, casuals or party wear, these eye-catching danglers can complement any outfit and occasion.
Runway Ready White and Black Long Earrings Danglers – Blingvine
Runway Ready Danglers
₹2,000.00
We, at Blingvine, bring to you some excellent enamel jewellery collections of Necklaces, Bracelets, Earrings and Pendants. Visit us at www.blingvine.com for high-quality flawless Enamel work jewellery online at best prices.
["source=blingvine"]