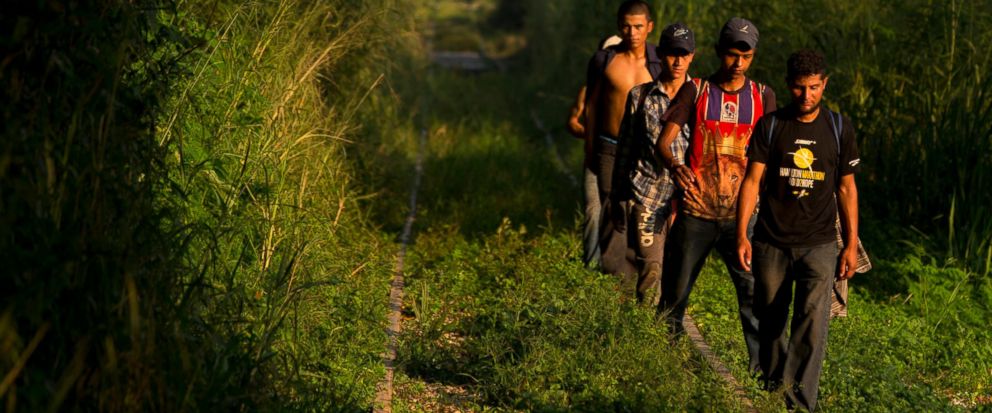 On a day when a migrant caravan of several thousand was still crawling through far southern Mexico, hundreds of young men were walking swiftly between train rides more than 200 miles to the north.
Some of them had left Honduras the same day as those in the caravan. One had left a week later. The difference: They were moving along one of the traditional Central American migrant trails, riding the freight trains known as La Bestia, or "the beast," that have been speeding — and maiming — migrants on their journey toward the U.S. border for decades.
While world attention has been focused on the migrant caravan numbering an estimated 4,000 people for the past two weeks, thousands of other migrants have continued their steady flow north on well-trod migratory routes. It's a faster option — and those taking it hope may help them fly under the radar while Mexican authorities focus on the slow-moving caravan.
In fiscal 2018, the U.S. Customs and Border Protection apprehended more than 396,000 migrants who crossed the southwest border illegally. Just the ones who were caught in a week amount to more than the estimated 7,000 traveling in the caravan at its peak.
One afternoon this week, at the spot where a set of mud-packed railroad tracks crossed a rural backroad in the Gulf coast state of Veracruz, figures emerged walking in the distance. Every few minutes more groups — of eight, 10, 12 young men — came into view.
They said they had gotten off a train that had stopped an hour's walk away and were trying to make it to a migrant shelter before nightfall.
Cesar Ferrera, wearing a green shirt and black jeans covered in grime from the train, said he left his home in the Honduran city of San Pedro Sula on Oct. 13, the same day the caravan departed, but never considered joining it.
"The train takes you much more quickly, and they are walking slowly and are super behind," Ferrera said. "We are, wow, way ahead."
He estimated there were 500 to 600 people just like him on the train that crossed the Guatemalan border into Mexico, passing town after town in southern Chiapas state in recent days.
His reasons for leaving were identical to many of those traveling in the caravan. Work was hard to find and what was available didn't pay enough to support a family. Crime was an ever-present threat. The 28-year-old left his two children at home along with his wife.
"More than anything, the government doesn't solve people's problems," Ferrera said.
He was working as a private security guard at a mall in San Pedro Sula last December and had to fight off looters in the disturbances that followed President Juan Orlando Hernandez's contested re-election, which was marred by irregularities and denounced as outright fraudulent by Hernandez's opponent. He said he was not making enough to risk his life protecting someone else's property.
Since leaving Honduras two weeks ago, he hasn't had access to news about President Donald Trump's threats of sealing the border to stop the caravan, but said he was undeterred.
Those living along the tracks in Trancas Viejas didn't blink an eye at the sight of dozens of young men walking by their homes.
Estefana Reves Cardenas has lived there for more than 15 years. Sometimes the migrants ride the train past, but it's also common to hear them walking by throughout the night. She couldn't remember ever having a problem with any of the young men, pregnant women and children who have passed.
"We give them a bit of food," Reves said. "Not everyone, because they are so many and they all want some."
It was Manuel Hernandez's first time attempting the trip.
The 23-year-old farmer from Santa Barbara, Honduras, had started travelling six days earlier and had heard some of Trump's threats about the caravan.
"Yes, we heard, but we are going to try it," Hernandez said. "It is an adventure."
He preferred to travel this way on his own because the caravan attracted a lot more attention.
"One person alone," he said, "that's the way."
Hernandez, who has family in Washington, D.C., said he was sure he could find a landscaping job there.
Noting that he'd be "very close" to Trump, he chuckled and said maybe he would "visit him."
["source=cnbc"]