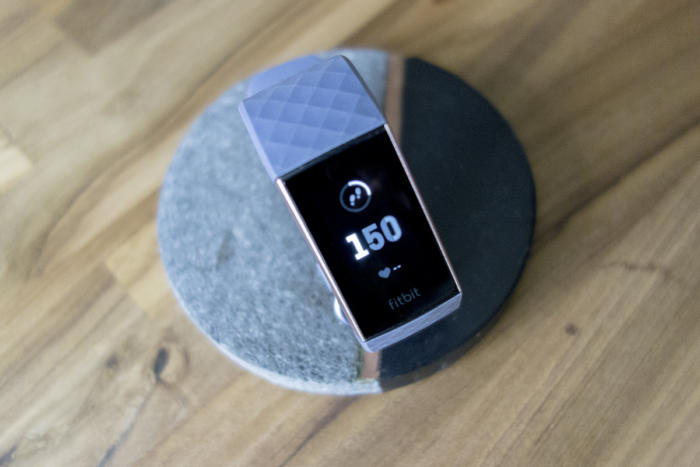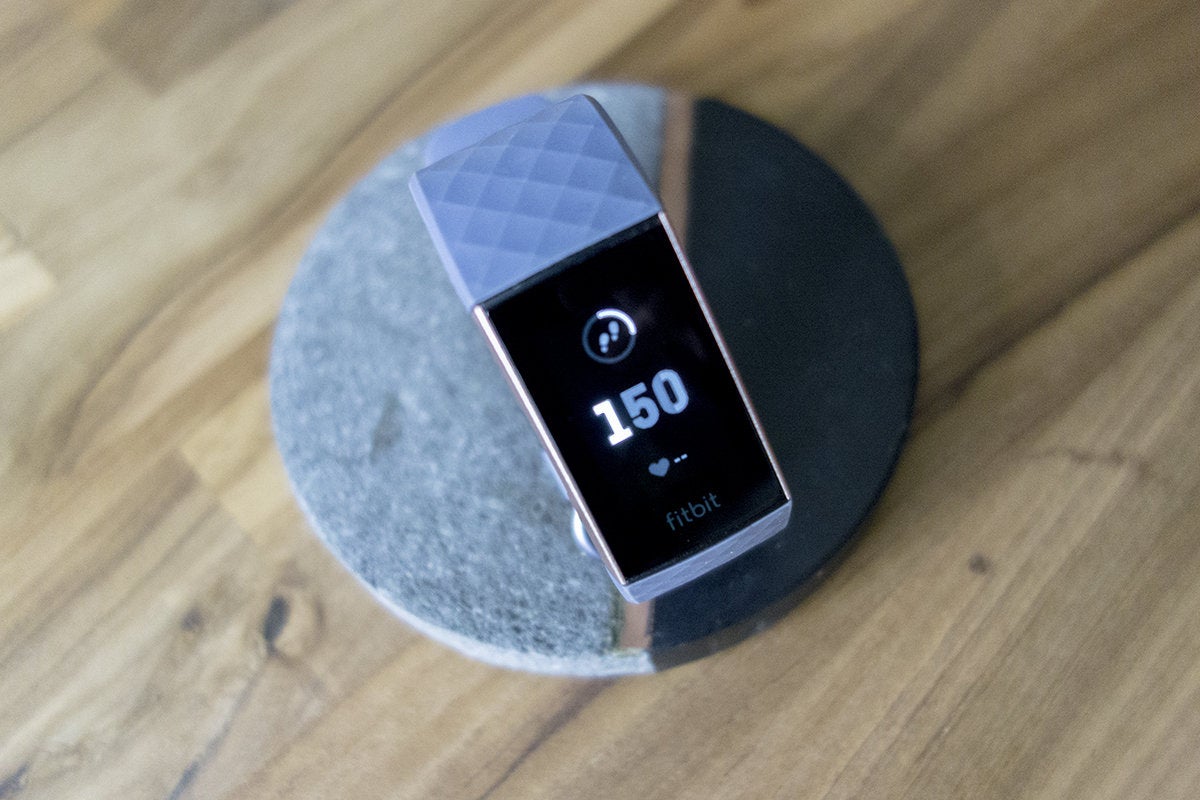 In an age of smartwatches with cellular chips and near edge-to-edge screens, the Fitbit Charge 3 is something of a throwback. It doesn't have a color screen. You can't install third-party apps. It doesn't even store music.
But even without many of the things that make a smartwatch, well, smart, the Charge 3 may as well be Fitbit's flagship device. The Ionic and Versa have higher price tags and more features, but the Charge 3 is the perfect balance of smartwatch and fitness tracker. Rather than trying to chase Apple or Samsung with large-screened devices that can answer calls, turn off the lights, and play games, the Charge 3 is just smart enough to be relevant in a crowded wearable field.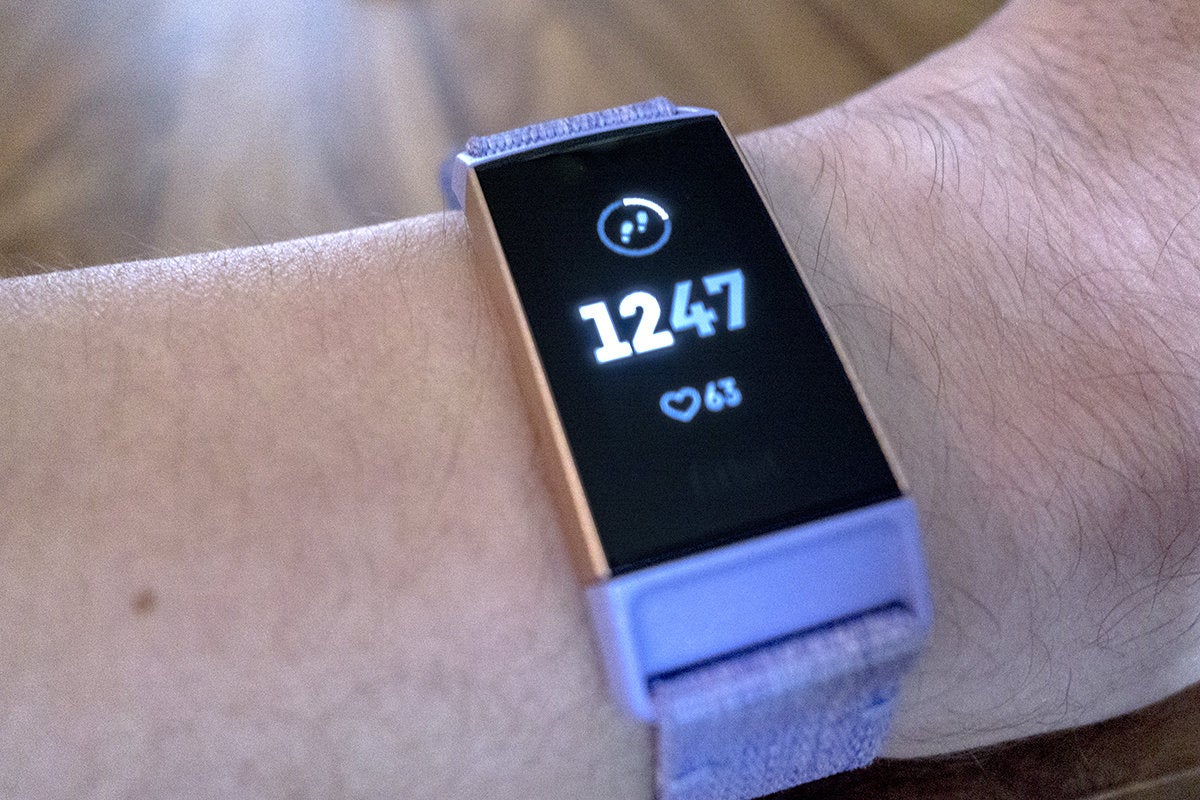 The Charge 3 won't help you unplug or let you leave your phone at home on a night out, but it might make you rethink how much you really need your watch to do. I'm a smartwatch enthusiast and generally gravitate toward watches that do more, not less: Apple Watch, LG Watch Sport, Galaxy Watch, etc. But taking form factor, battery life, price, and reality into consideration, the Charge 3 is definitely something I'd consider wearing every day. Even without full smartwatch functionality, the Charge 3 does mostly everything I need it to do, even if it falls short of the things I think I want it to do.
Table of Contents
Getting the band back together
Alerts, not apps
Should you buy the Fitbit Charge 3?
Getting the band back together
Like the year-and-half-old Charge 2 that it replaces, the Charge 3 is more of a band than a watch. At first glance it looks quite similar to its predecessor, but there are significant differences. It has a similar vertical rectangular aesthetic as the Charge 2, but the 17.64mm x 4.95mm screen takes up significantly more of your wrist. And even with a display that's some 40 percent larger than the Charge 2, the Charge 3 is still a couple of grams lighter, largely due to the use of aluminum rather than stainless steel.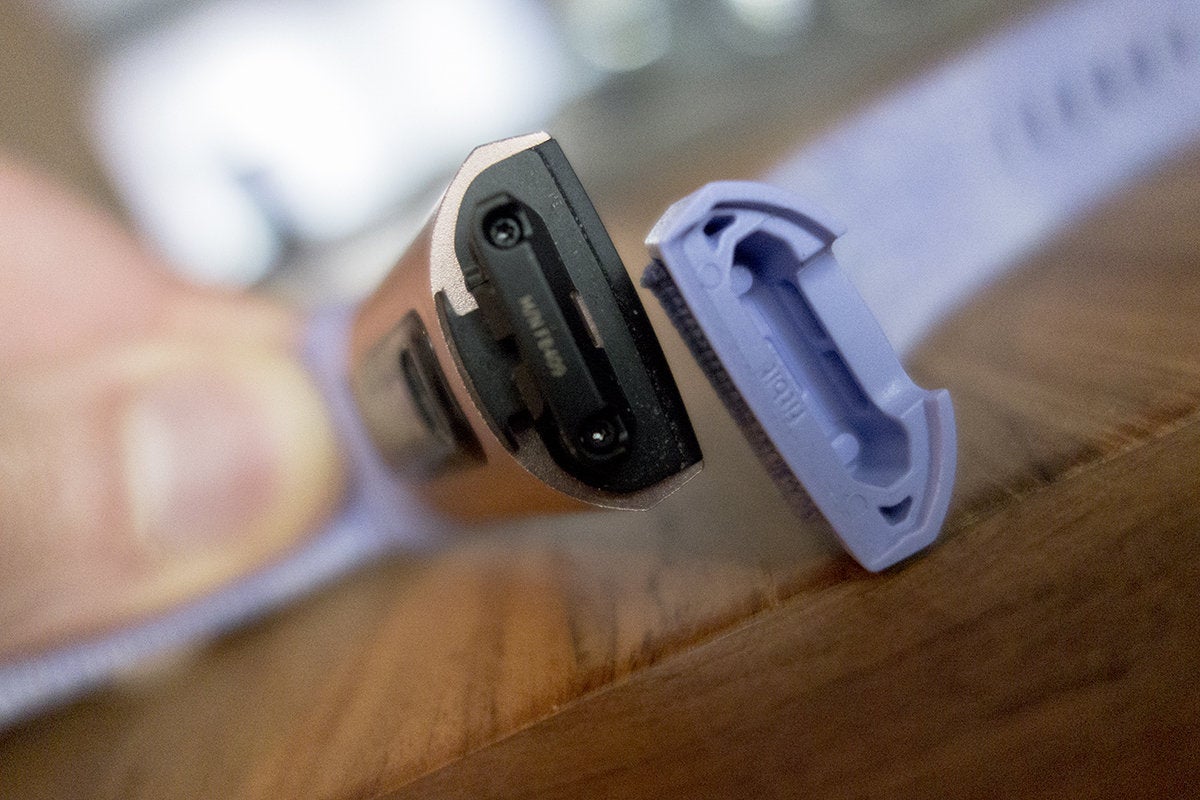 Extending out of the sides of the screen is a new swappable band system, and it's much sleeker than the Charge 2's bulbous lugs. The swapping mechanism is more like the Ionic's now, which is to say it's drop-dead simple, and the bands feel more like classic watch bands, subtly changing the look of the rose gold or graphite aluminum body rather than choking the sides of the screen. As always, Fitbit is selling a variety of them at various price points, and that sound you hear is the third-party market kicking into gear.
With a softer look and a longer body, the screen is on full display here, and it's a good one. It's still a monochrome OLED affair, but Fitbit's playful use of whites and grays make the watch faces seem as lively as they do on the Versa or Ionic. Text and menus are bright, crisp, and easy to read even on a tiny screen thanks to a higher resolution though not-quite-Retina display. But more importantly, the screen is fully touch enabled now, a major upgrade from the tap-only Charge 2.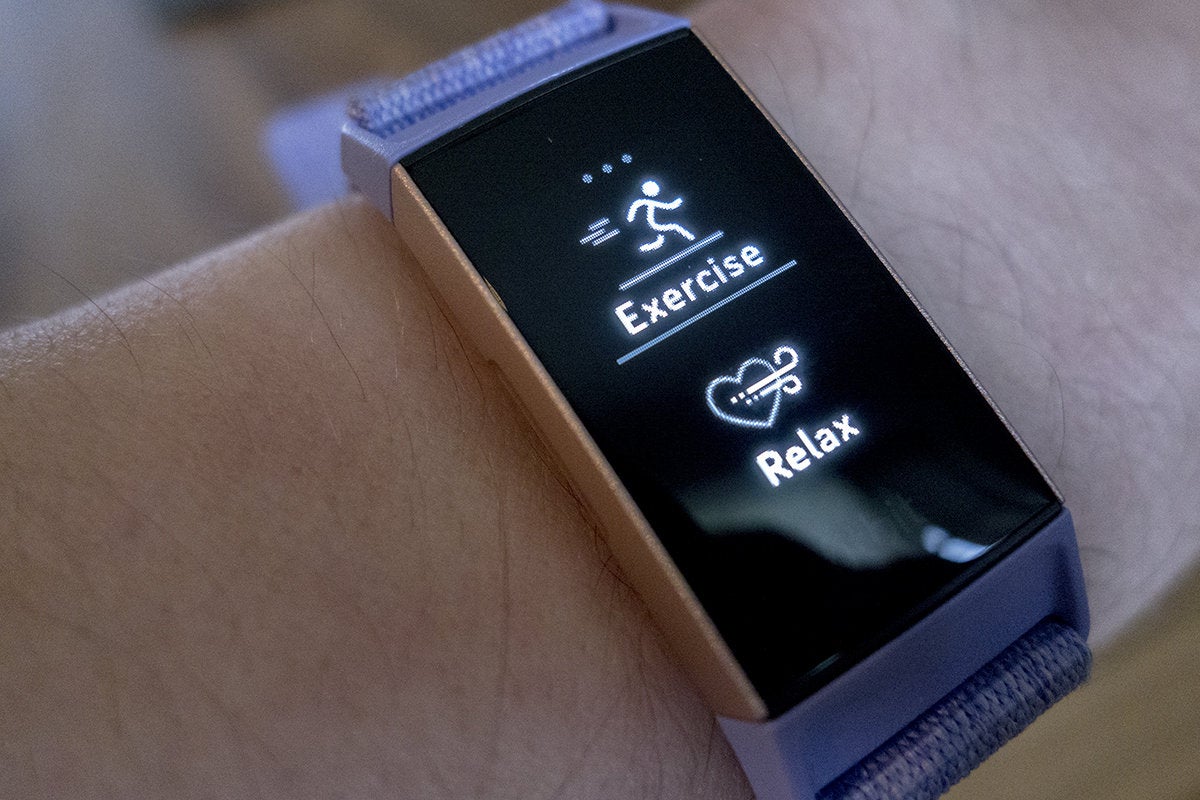 As you'd expect, navigating apps and menus on the Charge 3 is much more pleasant. On the Charge 2, switching between apps requires tapping the corner of the screen or tapping the button, neither of which is all that intuitive in 2018. With the Charge 3's touch screen, however, navigating is as you'd expect:
Swipe left to see your apps
Swipe up to see the Today screen
Swipe down to see notifications
While taps and swipes are all that's needed to get around, the Charge 3 also has a home button on its left edge that would go unnoticed if not for a small indentation at the bottom. And unless they read the manual, people still might not realize it's there.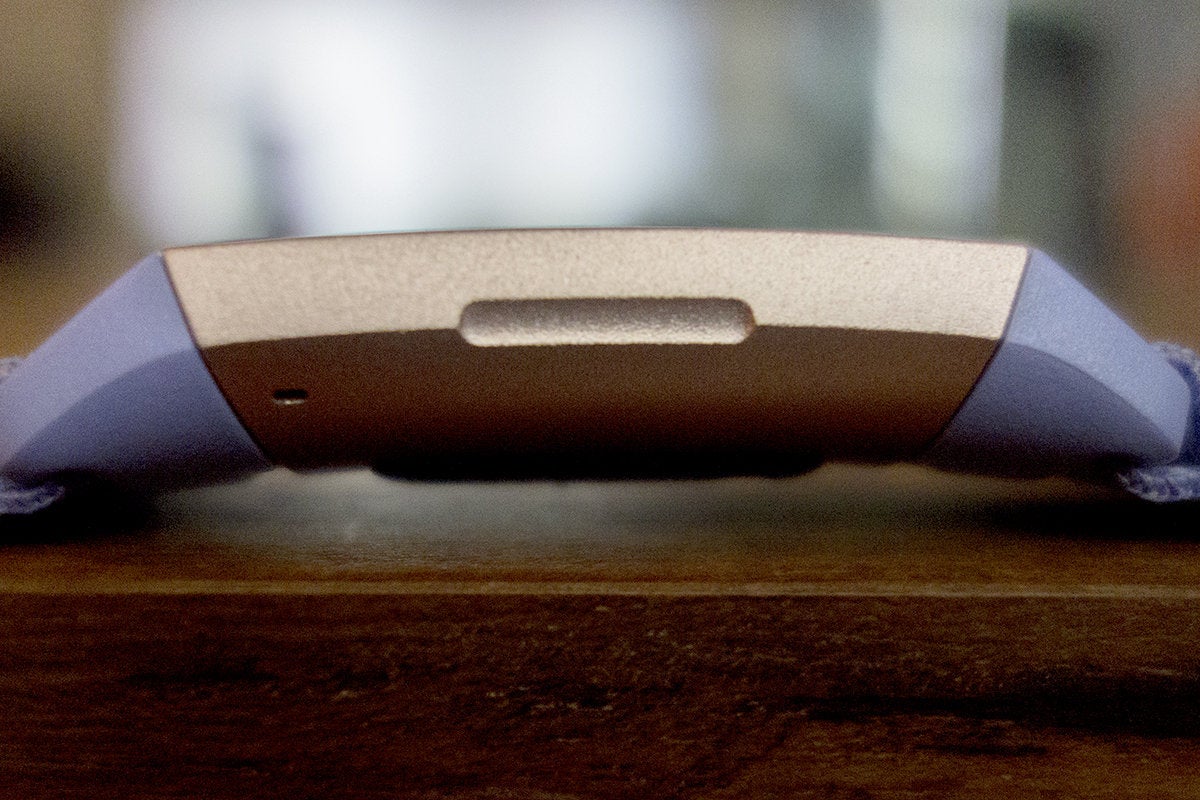 Here's why: the button on the Charge 3 is not a traditional button, its an inductive one. To activate it, you need to press you finger against the side of the band until you feel a small bit of haptic feedback. Since you don't need it for navigation anymore, the main use for the button on the Charge 3 is to turn the screen on and off—you won't need to press it all that often. It's a cool innovation that will surely impact Fitbit's future designs in more meaningful ways, but it's not really all that useful on the Charge 3, other than giving the body a cleaner look.
Alerts, not apps
Other than a physical button, the other thing the Charge 3 doesn't have is a way to install apps. While that's not uncommon in the world of fitness bands, it feels a bit constricting as it follows in the footsteps of the Versa and Ionic. Granted, the app library on those platforms are severely limited compared to Wear OS and Apple Watch, but on the Charge 3, there are but six apps, and one is Settings. The others are Exercise, Relax, Timers, Alarms, and Weather. Calendar and Leaderboard are coming soon, and there's also a Wallet app for Fitbit Pay on the NFC-enabled special edition Charge 3, but for the most part apps are limited to obligatory functions.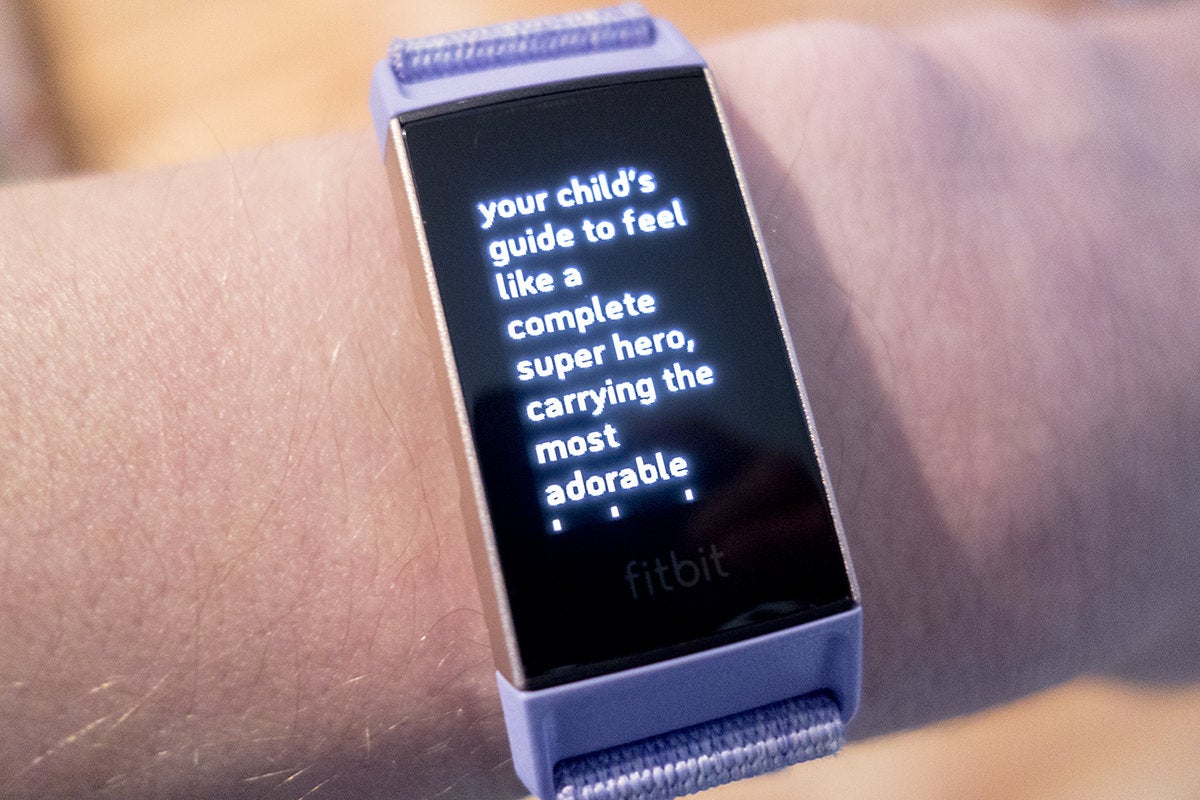 Clock faces are limited as well, with just 7 to choose from as opposed to the dozens that are available for Ionic and Versa. And any new ones will need to be designed by Fitbit for now, as the company isn't releasing an SDK for custom apps and faces. It is, however, working with "a number of popular brands" to bring extra functionality to the Charge 3. Stay tuned.
Based on its app library alone, the Charge 3 is nowhere near as smart as the Versa and Ionic. Most notably, there's no music app or controls, so all music streaming will have to come from your phone. That's a bummer and the Charge 3's biggest detriment, but since it doesn't have on-board GPS, you'll need to have your phone most of the time, anyway.
The Charge 3's exercise tracking are as robust as you'd expect from a Fitbit device, though automatic exercise recognition was a little wonky. For example, it properly registered a walk to a local restaurant but clocked my time there as an hour of outdoor bicycling for some reason. And if I forgot to hit stop after a workout session, my Charge 3 continued to record my movements for hours despite a return to a resting heart rate.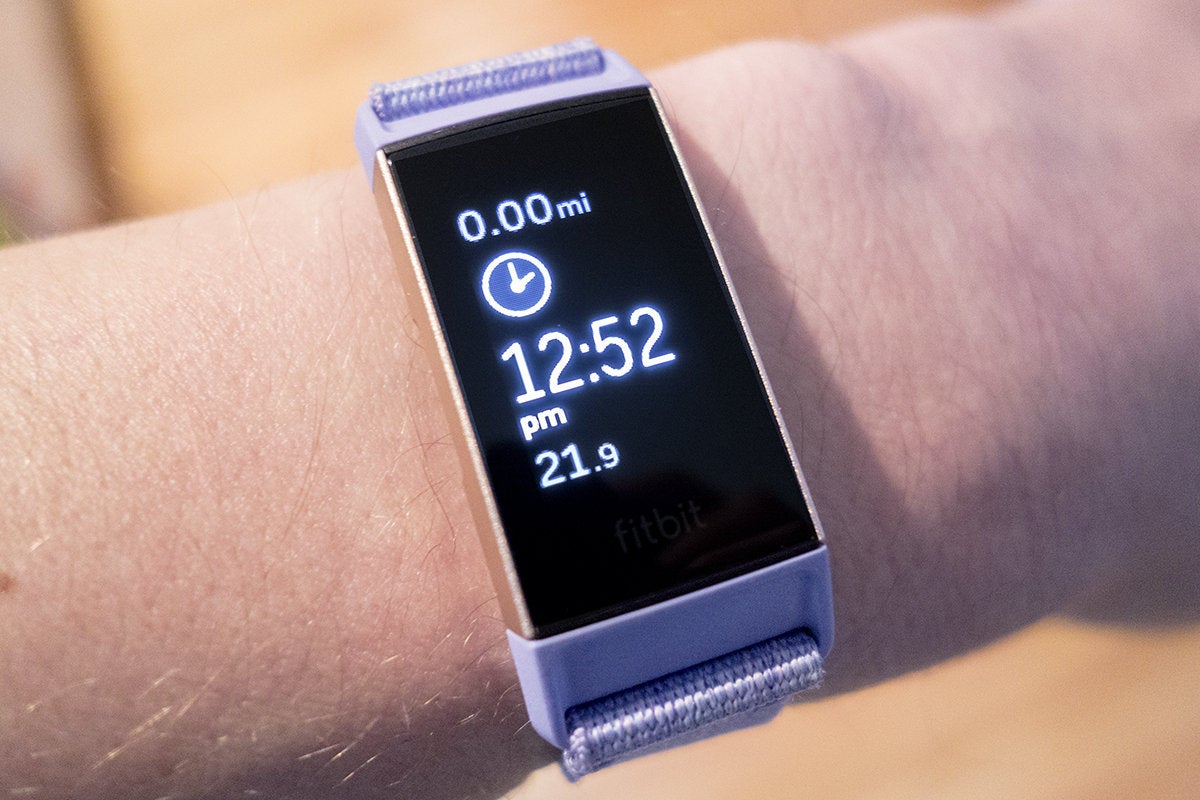 Where Fitbit has expanded the Charge 3's capabilities is with notifications. The Charge 2 was able to get alerts for calls, messages, and emails, while the Charge 3 can display any notification that comes to your phone, making it infinitely more useful. It's here where apps like Uber or Spotify are missed, but the Charge 3 does well to keep you apprised of what's going on. While you still aren't able to interact with any of the alert you receive—Android Quick Replies are still on Fitbit's coming soon list and there's no microphone for answering calls—it makes the Charge 3 a true all-day companion to your phone.
Did I say all-day? I meant all-week. Without GPS or a color screen, Fitbit has managed to squeeze seven days of battery life out of the Charge 3, and in my testing, regular workouts didn't prevent it from reaching day seven, with a full week of sleep tracking to boot. And since it's water resistant up to 50 meters, you really won't beed to take it off until the battery dies a week later. When you do need to charge it, Fitbit has introduced yet another charger that's basically a smaller version of the Versa's squeezable dock.
Should you buy the Fitbit Charge 3?
Fitbit hasn't changed the price of the Charge 3, so it'll still run you $150 (or $180 for the special-edition model, which comes with an NFC chip and a second band). Compared to the $279 Series 3 Apple Watch or even the $200 Versa, it's a bit of a steal. Quite frankly, a touch screen alone would be enough to make the Charge 3 a worthy upgrade over the Charge 2, but Fitbit has made its newest wearable smarter to boot.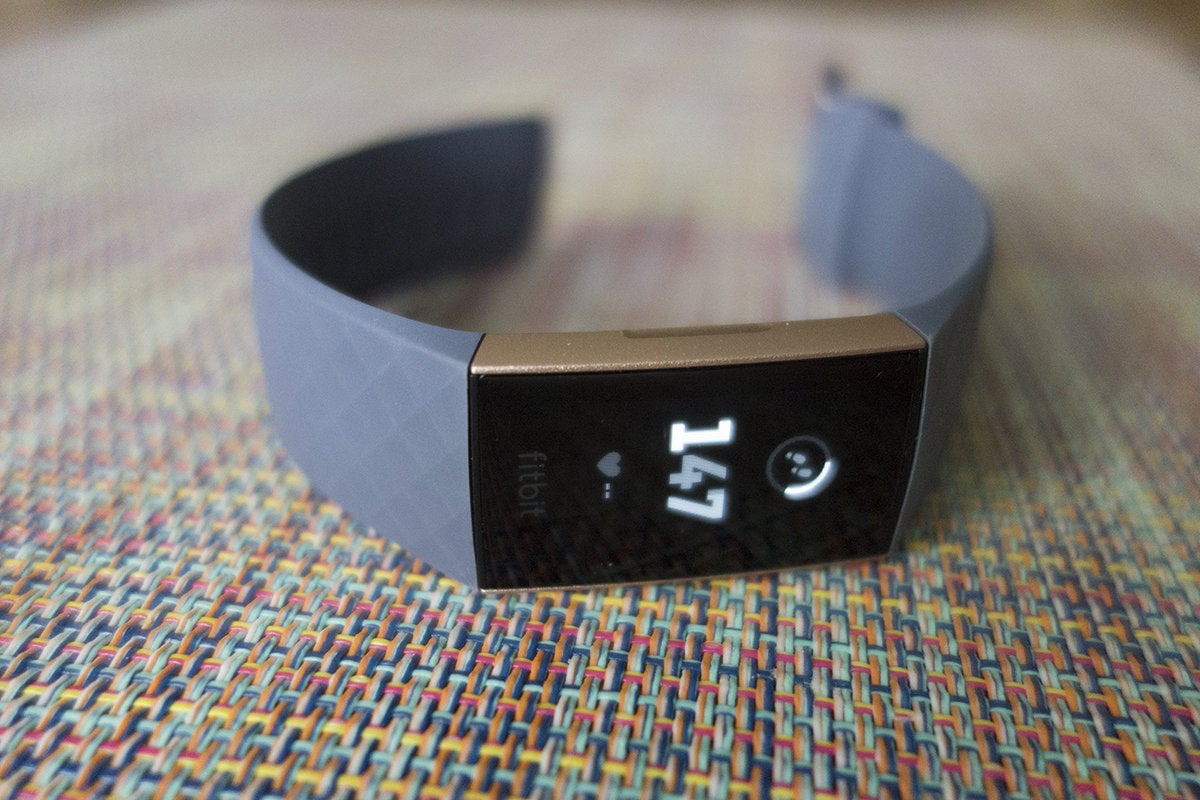 Even with greater capabilities, the Charge 3 is simplistic compared to the Samsung Galaxy Watch or upcoming Huawei Watch GT, but that's the whole point. It's not about piling on features and functions to challenge higher-priced watches. It's about offering a concentrated alternative to full-sized smartwatches without sacrificing the things that are necessary to the experience. Other than music, I didn't miss much about my other smartwatches while wearing the Charge 3 for a week. Sure, it would be nice to answer calls or respond to messages, but it also made me consider the urgency of each alert.
At some point the Ionic, Versa, and Charge 3 will converge into a single device that's small enough for every wrist and smart enough for every task, but until the day arrives, the Charge 3 is definitely a best-of-both-worlds proposition. You can find smarter, more capable watches out there for sure, but they'll be bigger, more expensive, won't last through the week. And they just might change your perception of how smart your watch really needs to be.
["source=cnbc"]