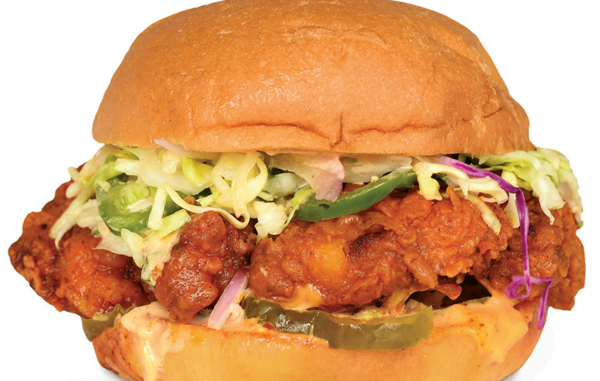 When a food truck has a fire-breathing chicken as its logo, you know you're in for some heat. Nash & Proper, which parks in the lot of T & R Taste of Texas Barbeque in Oak Park most days, specializes in Nashville-style hot chicken—a fried delicacy that, at its fieriest, requires something of an asbestos tongue to eat.
Cecil Rhodes, the ebullient chef who owns Nash & Proper with partner Jake Bombard, has been obsessed with fried chicken since childhood, when his grandmother would make it for him in her cast-iron skillet. "She'd give me a leg, and that would be the best bite I had all week. I'd be so happy," he recalls. "I've been messing around with fried chicken since I was 12 years old, trying to put my own spin on it."
It took Rhodes two years to perfect his current recipe. "I've finally got this recipe down. I'm not gonna touch it anymore. I think it's perfect." Here, Rhodes gives a breakdown of his signature dish that has fried chicken fanatics breaking into a sweat: The Sammich.
The Bread
"There's a lot of brioches out there, but this is the only one that can hold that sandwich together the way it does."
The Chicken
"It's a boneless leg and thigh that is double dipped and double fried. I brine the chicken in a salt solution with brown sugar and cayenne. As for the hot oil that gives the sandwich its heat, I'm taking that recipe to the grave."
The Slaw
"The slaw has got a pickle vinaigrette. We let it sit for a little bit so that it gets a little wilty and is kind of drunken with that pickle flavor. I think the slaw is very underestimated on the sandwich."
The Fuego Sauce
"It's basically a spicy aioli. We use Frank's RedHot, Sriracha, garlic, cayenne. Frank's and Sriracha are two of my favorite hot sauces, so why not put them together? They're the perfect marriage."
The Pickles
"You need that pickle every once in a while. I wanted every bite to be something different. I didn't want it to be just another fried chicken sandwich."
["source=sacmag"]