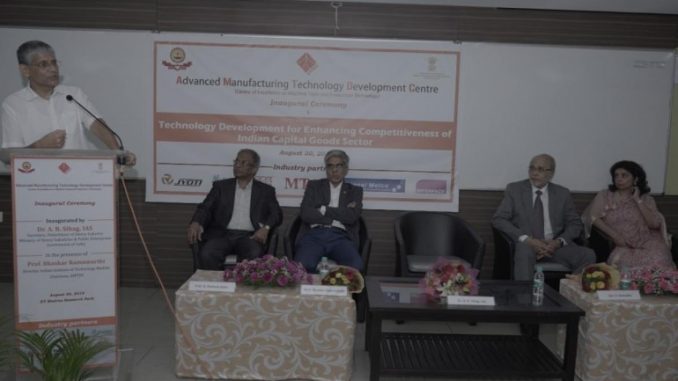 AR Sihag, Secretary, Dept of Heavy Industry, Govt of India, addressing inaugural of Advanced Manufacturing Technology Development Centre
Indian Institute of Technology Madras imparted a major thrust to indigenize the manufacturing capabilities in India with the launch of the Advanced Manufacturing Technology Development Centre (AMTDC). A one-of-its-kind translational research and development centre, AMTDC brings the concept of Industry-Academia collaboration into reality and is set up in IIT Madras Research Park, a nodal infrastructure for academia-industry interaction under one roof, to offer solutions for developing advanced technologies in capital goods manufacturing sector with the collaboration of industrial partners.
Established by IIT Madras with the support from the Department of Heavy Industry, Ministry of Heavy Industries and Public Enterprises, Govt of India, under its Capital Goods Scheme on 'Enhancement of Competitiveness in Indian Capital Goods Sector,' this Centre is registered as a not-for-profit society to function as a special purpose vehicle focusing on the technological developments in the Capital Goods Sector.
The centre works closely with the industry, which has also provided a part of the funding for R&D. It is currently developing prototypes that cater to the needs of industries across several sectors including Aerospace, Nuclear, Machine Tool, Automotive and Engineering Industry.
AR Sihag, Secretary, Department of Heavy Industry, Ministry of Heavy Industries and Public Enterprises, Government of India, inaugurated the AMTDC today, on August 30, 2019, in the presence of Prof. Bhaskar Ramamurthi, Director, IIT Madras, and P Ramadas, President, Indian Machine Tool Manufacturers' Association (IMTMA).
Benefits
Speaking during the inauguration, AR Sihag said, "The AMTDC is an example of Industry-Academia-Government coming together to solve complex problems and this can set the Indian Manufacturing Sector on a higher growth trajectory. It is not easy to find such combination of people and resources to make such centres possible. So, a special thanks to Prof Ramesh Babu and IIT Madras for having created a culture that helps achieve this kind of accomplishments."
Further, AR. Sihag said, "We are working on the next stage of the scheme under which this centre was funded, and in Phase 2, we are giving ambitious scaling up targets such as a five-fold increase in outlay. We would like to give concrete ideas and I would like the stakeholders to share their inputs on what the DHI can take up for Phase 2 of this initiative. These efforts are done towards the common good of developing our economy, country and society. If we are to avoid the 'Middle-income trap,' we need successful models, like the one used to create AMTDC, and replicate it on a larger scale, identifying bigger problems of the industry and work towards solving them."
"The work that we have already done gives us the confidence to be ambitious and solve bigger issues and when we solve them, we can say we have arrived as far as that sector is concerned," added Dr. A.R. Sihag.
The AMTDC undertakes Research and Development (R&D) in the areas of sophisticated and high precision machine tools, smart manufacturing platform for production processes, low-cost automation and robotic systems and mechatronic modules for machine tools besides improving the technology base / ready-to-use technologies for Micro Small and Medium Enterprises (MSME).
Features about the centre
The centre is established over an area of 9,000 sq. ft. in IIT Madras Research Park to house technologies developed over the last three years with six industrial partners. In a short span, AMTDC has developed a core technological base in areas of precision machine design, energy-efficient system design, analytical/numerical design optimisation, soft technologies for smart manufacturing involving Artificial Intelligence and Data Analytics, manufacturing process design and optimisation and automation system design and integration and demonstrate them into patentable and commercially exploitable technologies.
Speaking about AMTDC, Prof. Bhaskar Ramamurthi, Director, IIT Madras, said, "This centre gives us great pride and we are delighted to create this kind of translational centre that works tightly with the Industry. Machine Tool sector in India comprises a large number of medium-sized companies. What keeps these companies going is their R&D and their products, which are ahead of the curve. AMTDC has been set up with generous help from the Department of Heavy Industry to bolster the R&D capabilities of these companies. This collaborative work will help MSMSEs stay ahead of the curve."
The centre provides an academia-industry eco-system that brings together the expertise and capabilities of various stakeholders like academic experts, researchers, students, industrial experts and engineers, among others.
Speaking about the efforts to promote industry-academia collaboration, P Ramadas, President, IMTMA, said, "Today's inauguration marks the culmination of five years of intense efforts to set up this AMTDC. It will help in development of manufacturing across different sectors. I thank the Department of Heavy Industry for their help. The results are here for all of us to see. The industry must make use of the capabilities here. This is an excellent example of Industry-Academia-Government collaboration."
Speaking during the presentation of the technologies developed at AMTDC, Prof. N. Ramesh Babu, Secretary, AMTDC, and Head, Department of Mechanical Engineering, IIT Madras, said, "With AMTDC's commitment to work in collaboration with its various industry partners and its proven expertise in developing and implementing large, complex projects, the centre is looking forward to generate high-quality human resources for manufacturing sector, to create opportunities for incubation of new technologies and to promote business development for MSME/SMEs besides developing new advanced technologies that are commercially viable for use in capital goods manufacturing sector."
The centre is working on the following key technology developmental projects. These are funded by the Department of Heavy Industry, Govt. of India, with about Rs. 44 crore:
1. Orbital Motion Abrasive Cutting
2. Direct Drive Abrasive Cutting
3. 5-axis Multi-Tasking Machining Centre
4. Hydrostatic Systems for Machine Tools
5. Automation of Grinding Process Intelligence
6. Low Cost Machine Tending Robot
7. Electric Drives for Machine Tools
8. Thermal Compensation Strategy for CNC Lathe
9. Multi Station Robotic Grinder and Polisher
10. Ultra Precision Micro Machining Centre
11. 5-axis Universal Machining Centre
["source=indiatoday"]