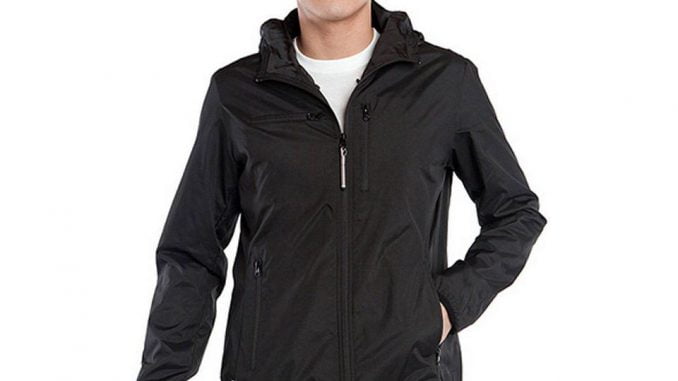 Whether you've booked a fall walking tour of Rome; a hiking adventure in Vancouver; or shopping spree in London, many trips require a jacket during the day or at least when the sun sets in the evening. For many, a bulky travel jacket will take up precious space in your luggage, so unless you're summitting the Swiss Alps, a lightweight travel jacket is key.
The best lightweight models are made with easily packable construction and thoughtful functionality, like optimal placement of zippers or some that come with its own travel pouch to stuff the jacket when not in use. Price can be a factor of selecting the best jacket, so here are our recommendations with a variety of price points and styles.
BaBaux 2.0 Windbreaker
Headed to a destination where rain is a possibility? The BauBax 2.0 Windbreaker is both water-repellent and breathable. The jacket laughs in the face of airline delays and long-haul flights with its built-in inflatable pillow.  Some of the 25 features include thoughtful designs like laptop pocket, zipper pen and stylus, and a built-in bottle opener.
ScottEVest Pack Windbreaker
The company started with a prototype and release of the men's version of the Pack Windbreaker, and now they've created a jacket for the girls. The 100% Polyester windbreaker folds into its own back pocket. Have a lot of accessories? Don't fret as there are 18 other pockets that fit items like phones, keys, small cameras, and coins.
Timberland's Ludlow Waterproof Hiker Jacket
Sometimes you just need a good, quilted jacket in your inclement weather arsenal. Although its not a pocketable design, the hiker jacket from Timberland is made eco-friendly: the outside of the jacket is made from 100% recycled nylon. The down fabric traps heat inside of the jacket so you can get back to stargazing or chasing the northern lights.
Uniqlo Pocketable UV Cut Parka
Stylish with UV protection technology? Sign us up. In addition to the sun protection, the Uniqlo parka is also a pocketable design so you can take it along with you on day trips for when there is a bit of bite in the air. The eight different colors offered means you can purchase more than one to match your colorful wardrobe.
Lululemon Smooth Departure Jacket
Stylish enough for front row seats at Fashion Week, the airy, water-repellent rain jacket is also super functional. The piece folds up into a lightweight bum bag, so the chic accessory is never far from your waist or chest. this oversized jacket feels almost weightless. The compartmentalized pockets holds cell phones, passports, and gloves without weighing you down.
["source=forbes"]