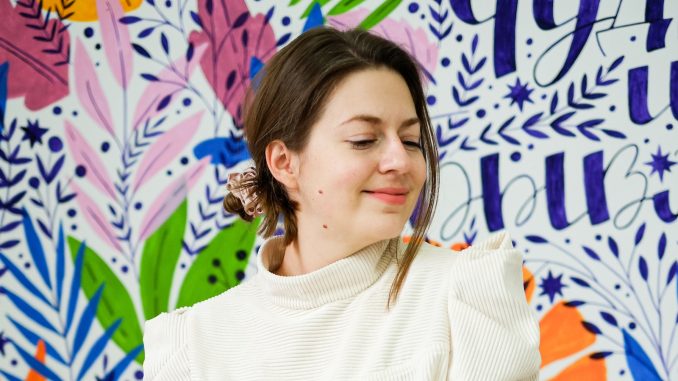 Last week, Dribbble & Creative Market teamed up to launch a new marketplace channel allowing designers like you to find and sell digital goods right on Dribbble! The marketplace channel will also enable Dribbble creators with digital assets to sell, to reach millions of potential customers on Dribbble and Creative Market with one seamless shop owner experience. Learn more here.
Today, freelance illustrator, designer, and veteran shop owner Maria Galybina drops by to share her shop story and top tips for designers who want to earn extra income selling digital goods!
Maria GalybinaFreelance illustrator specializing in vector graphic, pattern design, watercolor and lettering.
Tell us about yourself. Who are you and what do you do?
Hi! I'm Maria. I create surface pattern designs for lifestyle brands to make their products look eye-catching and give them character. My patterns are quite versatile and used for many things like textile, stationery, decor, etc. I prefer to use a bright color palette, and my illustrations are mostly nature-inspired.

Tell us the story behind your shop. What inspired you to start selling digital patterns?
I have a degree in Graphic Design, so during my studies, I had plenty of practice creating logos, illustrations, and patterns. In school we used lots of digital tools for our projects, so, naturally, that gave me a direction for the future.
I was experimenting with different kinds of art when I started my digital career. Eventually, I realized that making vector patterns is what excited me most. As far as selling my patterns, I love that I can create endlessly and it only takes moments to upload my products online, so there's really no limit to the possibilities, which is simply awesome!
How has your digital goods business evolved since its inception?
When I just began in 2014 on Creative Market, I was lucky to have an idea of what to upload there, which is seamless patterns. In the beginning, there weren't many sales, but I didn't have many expectations and wouldn't even call it a business. I was patient and just kept drawing. I realized that it was the only way for me—since I love drawing, and I wanted to show my art somewhere.
Selling digital
goods
has given me the flexibility and freedom to choose where I live and when I work.
Eventually, my efforts started paying off, and this motivated me even more to continue creating new patterns. Now, I'm pretty happy to consider my art a business. 🙂
How has selling your digital goods impacted your career?
Selling digital goods has given me lots of flexibility and freedom to choose where I live and when I work. I love traveling and visiting new places, so as long as I have my laptop and a tablet with me, I'm good to go. For example, I moved to Lithuania sometime ago, and now I'm thinking about moving again to the south of France.
In your opinion, what's the key to running a successful shop?
In my opinion, the most important thing is to focus on creating things you really love. Then, you won't feel like you're putting in so much effort, and the art of creating will fill you with joy.
Once I focused on what I enjoy creating, I discovered my own style and started growing as an artist.
We tend to follow the trends, but sometimes trends don't resonate with us—so it becomes harder and harder to find the motivation to create. I've made that mistake in the past and now I know for sure that it's not worth it. Once I focused on what I enjoy creating, I discovered my own style and started growing as an artist.
What's the best piece of advice you've ever received as a designer or business owner?
It was a piece of advice I received from one of my best friends at the beginning of my digital career on Creative Market. At that time, I used to always look at other successful designers, read many blogs and social posts where they'd share how great things were going for them. I'd always find myself so frustrated and unmotivated because I thought I was doing something wrong.
My friend suggested that I stop looking at others and focus on my own path because we're all so different and have such diverse backgrounds. Our definitions of success are not the same.

What advice do you have for designers considering selling digital goods?
Don't compare yourself to others, no matter how successful they are. You are unique in your own way.
Choose to do what you love and enjoy. It's crucial for your professional and personal development.
Grow your visual experience at any opportunity you have. Go to flower shops, browse through art books, visit museums, analyze what you see, and note what touched you personally. Then, this information interpreted by you will find a way into your work and will look so much different.
Finally, the best advice of all—reinvent the wheel, make your own discoveries, and who knows, you might find a brand-new idea along the way.