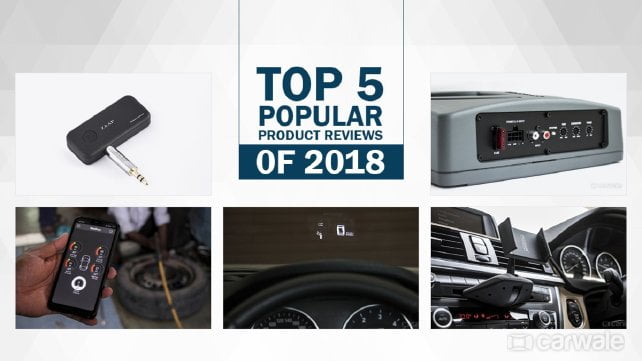 Amidst our busy schedules of serving sizzling news pieces and racy drive reviews, the year 2018 also saw quite a few informative product reviews. Of the lot, we've hand-picked five product reviews that inherently have the zing to spice up your drive. Here they are!
1. Product Review – Zaap Bluetooth Receiver
The Zaap Bluetooth Receiver is an excellent option for wireless phone connectivity. It uses a rechargeable built-in battery for power supply. This is a boon especially in older cars that don't have a USB port or even a 12V power outlet.
2. Product Review – SensAiry Tyre Pressure Monitoring System
Keeping an eye on your car's tyre pressure is essential. In this context, the SensAiry tyre pressure monitoring system (TPMS) works out to be a good solution. It relays a tubeless tyre pressure and temperature to an app on your smartphone.
3. Product Review – Roger Up View Head-Up Display
It goes without saying that a head-up display goes a long way in terms of safety. It not only helps keep your eyes on the road while still having access to information, but it can also be a cool piece of tech to show-off.
4. Product Review: Rockford Fosgate R400-4D and Blaupunkt XLf 8A Active Subwoofer
Amplifiers and Subwoofers are some of the most popular fitments for years now. Our Blaupunkt and Rockford Fosgate product review breaks down all the mental barriers so that you can focus on shredding your ear-drums, and entertain other road users too.
5. Product review – Stuffcool Mag-Hold
Amongst the numerous options for car phone-mounts available to a buyer today, the Stuffcool Mag-Hold has a unique twist. This is a magnetic phone mount. One that actually works well without you being worried about your device falling off.
Tags:
Tata,Hyundai,Honda,Mahindra,Toyota,Ford,Maruti,Datsun