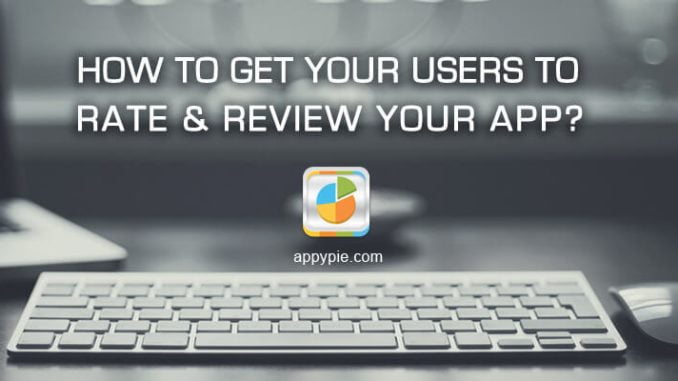 In this post, I am going to talk about the significance of app ratings & reviews, how you can ask for them, and the basic Dos and Don'ts of asking your app users for it.
When app developers or publishers ask for rating and reviews on their app, it is rarely ever for reasons of vanity. The most obvious advantage of positive reviews is that it attracts more customers to visit the app and the chances of conversion too get higher. Additionally, when you are prompting your customers to write a review for your app, you are also generating customer action! Recent research indicates that around half of the app reviews are generated by in-app prompts.
Why you need strong app ratings?
Before we deal with the subject of the best way to ask for ratings and reviews, let's try and understand what's at stake when it comes to getting good app ratings. As app users you must have come across app rating requests, while some of them are meaningful and genuine, others come across as nosey and nagging.
The important thing here is, to understand that app ratings are not a matter of vanity, it in fact is a great way to induce faith in prospective customers and increase your visibility on the app stores.
Let's delve deeper into the topic:
Your prospects will check your app ratings. If you have an abysmal rating, your prospects are going to choose your competitors over you.
Positive app ratings bump up your visibility on the store by helping your app appear higher in the search results.
So let's get cracking on how to effectively get your users to rate & review your app and how to reap in the many benefits of the same.
1. Build something awesome!
The most important step to getting a good review and rating from your users is to give them something that is awesome! Is the app good, great or the best, would probably vary from person to person and depend on their expectations from the app. Initially, when you want to get people to rate and review your app as a great one, make sure that it is not a bad one. An app that is great for the users need not have a life-changing impact on them nor do they need to be over stuffed with features, have extra elements of aesthetics or come with a load of Jing bang. The important thing here is that the app needs to have a defined purpose or function and come as a solution to a problem that is being addressed.
However, it is concerning to note that most of the users, even the happy and loyal ones would not rate or review your app. It is those people who are extremely happy with your app or are hating it, who would maybe come to the store and rate & review your app. Make sure that your app has been tested optimally so that the users are not annoyed by frequent crashes, are designed well with a user-friendly layout so that the users aren't left clueless or confused. Apart from this you can take a chance and offer an exclusive feature that would only be available through the app. This particular feature need not be ground breaking and can be anything from a special discount or sale for app users, the ability to make a booking/appointment/reservation, or even digitizing the loyalty plan you currently own.
One important thing here is to stay away from trying to cram up all the features at the time of launching the app. In case there are some features that are tough to put in place in the short time that you have, or is simply not working well, postpone this inclusion and keep it for future updates. It is a better idea to launch an app that is fully functional but has few features than launching one that comes loaded with features but has faulty or bad functionality.
2. Do not nag!
It is essentially common sense. How would you behave if someone were continuously poking you, prodding you, disturbing you and asking you for the same thing over and over again? Probably not positively, right? Sending out well timed, relevant, and subtle prompts is a great way to request & garner rating & reviews. However, if not optimized intelligently, this can lead you to get a big number of annoyed users who might leave a less than favorable review for your app and those who were enjoying your app, might even be discouraged to come back and use it. To attain this precarious balance, we have also put together a list of Dos & Don'ts of sending out an app review prompt which we shall get to in a minute.
Another great way to offer the users an option to rate your app is by incorporating the request in the app menu itself and in the app store description of the app. This can be done quite simply and efficiently by adding a new item in your app menu which asks your users to "Rate the App" in a subtle manner. This button or item in the menu should then take the user directly to the rating & review page, thus making it easy for the users to rate them. This method is unique in the balance that it manages between being unobtrusive and being visible to the users. Here the decision to rate and review is left entirely to the users and their personal choice.
Additionally, a similar request may also be added to the app description on the app store. End the app description with a simple request to the users to rate and review your app if they enjoyed using it and give them a URL that would lead the users to the rating page of your app, again making it all the more easier for them to rate & review your app!
There is another option, where you can send out a segmented push notification to the users who have used your app for a particular number of times. This option however can be a risky proposition as it might not be a welcome disruption, discouraging the happy user, sometimes leading them to abandon the app. Monitor the results of this push notification that you send out, and only if you see a sizeable increase in rating should you repeat this tactic.
3. Respond to the feedback.
When a user rates and leaves a review for your app, remember that they took time out of their lives and chose to leave a review for you. It is important to acknowledge this effort that they took as it is something that they did with no vested interest. Hence, it is important that you respond to all the feedback that you receive whether they appreciate you or berate you. When you take the time out to respond to each one of the feedback you receive, you are clearly sending out one message that you care for your users. Not only do the users who reviewed you feel more valued, but anyone who goes through the reviews and responses would perceive you as someone who pays attention.
In case you have published your app through your own developer account, then you must develop a habit to respond to as many reviews as you can. The negative reviews especially must be paid attention to as should the reviews that are asking for specific and novel features that they would like to see in your app. However, in case your app was published through a third-party developer and the app was developed through their developer account. This too can be taken care of by referring to the particular updates in your app description while releasing new updates for your app. This is especially relevant when your update includes inclusion of a new feature that was requested by a user. On the lines of the "Rate the App" incorporated in the menu, you may even integrate a feedback link that takes the users to an email form or preferably an online survey, to get feedback for your app.
4. Try new ways!
Even when you might have done extensive research to put a great methodology in place to get app ratings and reviews, it is quite possible that the strategy is not really working for you. What can you do? Improvise, of course! This is similar to what you do for everything else on your app, keep tweaking it, evolving it and do not stop until you develop something that works perfectly! It is a better idea to take the users to a support channel instead of an app store. Try different combinations by tweaking different parameters like the number of days you would be waiting before prompting a user again for a review, the design and structuring of the dialogs. Sometimes it is the rating mechanism that pushes you up or down the charts!
5. Dealing with the negative reviews.
It is natural that there would be some negative reviews that you would need to battle out and you must know how to deal with them. If you were to be disheartened or enraged with every negative review that came your way, then you wouldn't be able to get much farther or ahead with the app. It is advisable to take the reviews with a grain of salt and extract any possible relevant and important information from it. However, one of the worst things to happen to your app is a 1-star review for performance related issues. As a developer, it is very tough to test every single aspect of the app in every conceivable situation that might come up and this is how bugs slip through the cracks. Ideally you should be able to fix each of the bugs as soon as possible and not wait for users to come to you and tell you what's wrong! Employ an appropriate SDK that will make crash and performance alerts available to you in real time so that you have the option and opportunity to fix any new issues that would keep the user experience of your app smooth & flawless.
While positive reviews and feedback give you the much-needed boost on & offline, but they do not necessarily help you grow and evolve. The negative feedback that your users have for you can be enlightening and bring your attention to issues or give you new ideas to ponder on. However, getting a 2-star ranking is probably not the way you want to find out about all these issues. Therefore, employing a support channel right within your app is a good idea as it offers the frustrated users a place to vent and gives you a two-way channel for interaction & redressal while keeping their concerns with your app private between you and them. If your user has a positive support experience, chances are, they will leave a shining review for you in the app store. Hence, when you have a user who had reached out to your support and you were able to sort their problems out satisfactorily, do prompt them for a positive review on the app store as a show of support from their end.
["source=appypie"]