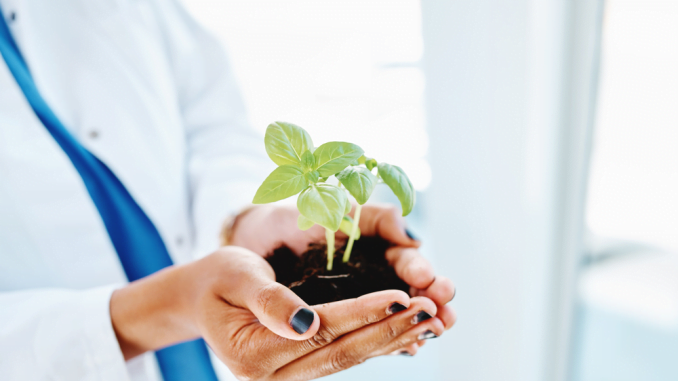 Did you know that the United States health care sector's greenhouse emissions make up 8.5 percent of the total greenhouse emissions for the nation? How about the fact that inpatient health care is ranked by the U.S. Environmental Protection Agency as the second-largest commercial energy user in the nation? This is according to Practice Greenhealth, a national nonprofit dedicated to advancing sustainability in health care.
Recognizing the impact of health care on the environment, leaders throughout Penn Medicine are stepping up to address the challenges. For example, Penn Medicine's new Pavilion incorporated sustainability efforts since the beginning of its development and is now the largest certified project in the world to achieve Gold certification or higher in LEED v4 Healthcare.
Leaders at Penn Medicine Princeton Health are prioritizing sustainability as well.
"Hospitals can really be at the forefront of sustainability," said Greg Evans, director of sustainability at Princeton Health. "There need to be more voices out there, and the health care sector should be out in front, leading the way."
Evans is collaborating with his colleagues across the health system to identify opportunities to save energy, reduce waste, and cut down on greenhouse emissions.
As part of its ongoing efforts to "green" the operating rooms for instance, Princeton Health has committed to collecting and reprocessing single use devices when possible.
Take pulse oximeters for example.
When the COVID-19 pandemic hit, people rushed to buy their own personal pulse oximeters, but they have long been used in hospital operating rooms to ensure sufficient blood oxygen levels during surgery.
And because they are designed to be used for one patient only, they are typically disposed of after a single use.
That means that across the country hundreds of thousands of these digital plastic devices hit the solid waste stream every day.
Princeton Health, however, has started collecting the devices and sending them out to a vendor to have them reprocessed and sterilized so they are safe to use again. They can then be bought back at a reduced price.
"This is a win-win for the environment and for the hospital's bottom line," Evans said.
Evans has also worked with Princeton Health's department of Surgery and the supply chain director to review the custom procedure packs that are used during surgeries to reduce waste and streamline surgical procedures. These efforts also will reduce the amount of cardboard going into the waste stream by an estimated 6.5 tons annually.
"Our planet has a finite number of resources," said John Heim, MD, chair of Surgery at Princeton Health. "Everything we use in the operating room contributes to our carbon footprint, and we are looking to do what we can to make a difference."
Over in the department of Anesthesiology at Princeton Health, Evans and the team have implemented changes to reduce the use of environmentally harmful anesthetic gases and are exploring technologies to capture the gases before they're vented outside.
"While these gases are essential to patient care, only about 5 percent of anesthesia gas is metabolized by a patient during surgery, with the other 95 percent being exhaled and typically ventilated directly to the outside air," Evans said. "Some of these gases hang around for years and are more than 2,500 times more harmful to global warming than carbon dioxide."
Bridget Ruscito, MD, chair of Anesthesiology at Princeton Health said the department has virtually eliminated the use of desflurane gas, which is the most harmful anesthetic gas for the environment, and almost completely avoids the use of nitrous oxide except in rare instances for certain clinical indications.
Ruscito also explained that regional anesthesia and total IV anesthesia both eliminate the use of anesthesia gas and are often best practices for many types of surgical procedures.
"We are supportive of these initiatives because of the tremendous positive impact on the environment and on creating a healthier earth for future generations," Ruscito said. "Our group feels so strongly about this that we have a designated anesthesiologist in our group to serve as the point person for environmental protection."
These types of efforts have earned Princeton Health the 2021 Environment Excellence Award from Practice Greenhealth, for "significant achievement in building a more environmentally sustainable organization."
Similar sustainability initiatives are underway throughout Penn Medicine.
For instance, Chester County Hospital's recent expansion project was awarded LEED Silver certification, and thanks to upgrades to its combined heat and power system, Lancaster General Hospital produces 70 percent of its electricity on site.
The newly opened Pavilion uses 100 percent outside air through its HVAC system, which could be a source of wasted cold and heat — but it has energy recovery wheels to recapture and repurpose energy from the conditioned air into other systems as free energy. Water will also be a repurposed resource. Rain and runoff water on the roof will collect in cisterns located throughout the property, which will then be used for the chilled water system for heating and cooling the building.
"Reducing our energy footprint can have a direct impact on public health," said Derek Tasch, health system architect. "It's exceptionally important for Penn Medicine to move toward being a leader in sustainability."
["source=pennmedicine"]