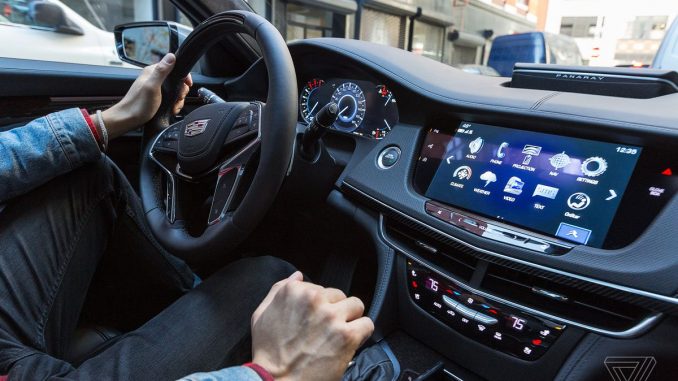 If you've bought a new car recently, perhaps you've noticed it has a bunch of new, high-tech features with gibberish-sounding names like "Distronic Plus with Steering Assist," "Multi-terrain Monitor," or "Person warning with Citylight braking function." That's because as cars get smarter and safer, the list of brand names that automakers use to describe these semi-autonomous features is getting longer and more ludicrous. And this can ultimately prove dangerous to drivers.
The American Automobile Association (AAA) surveyed 34 car brands sold in the US with advanced driver assistance systems, or ADAS, and found that automakers have gone overboard in their naming conventions. There are 40 different brand names used to describe automatic emergency braking, 20 different names for adaptive cruise control, and 19 terms for lane-keeping assistance.
In addition to the aforementioned offenders, some of the more outlandish ones include "LaneSense Lane Departure Warning Plus," "Lane Change Alert with Side Blind Zone Alert," and "Intelligent Around View Monitor."
Rather than using standard phrases to describe these features, automakers are opting for buzzy, market-tested terms that create more confusion that clarity, AAA says. "It is very difficult for a consumer to know what is on their car and generally have an idea of how it works," said Greg Brannon, AAA director of automotive engineering and industry relations.
These safety features are usually bundled together into packages of options that generally get their own flashy brand name as well. That's why you get systems with names like AcuraWatch, Ford's Safe and Smart Package, Honda Sensing, and Mazda's i-Activsense. Most sound like jargony nonsense, but some, like Tesla's Enhanced Autopilot or Nissan's ProPilot Assist, can be dangerously misleading if drivers fail to grasp what is being sold to them.
"When you ask consumers about what they think that system is capable of, 40 percent of Americans believe that a system called ProPilot or Autopilot has the ability to drive the car by itself," Brannon said.
This is happening at a time when ADAS is becoming more prevalent in new cars. At least one ADAS feature is available on 92.7 percent of new vehicles available in the US as of May 2018, AAA reports. Not only are these high-tech systems within financial reach of many new car consumers (about $1,950 for the average ADAS bundle), they also have the potential to avoid serious crashes.
Tesla has recently made the move to release quarterly reports on the safety of its Autopilot system. In its first report, Tesla said that it registered "one accident per 3.34 million miles driven in which drivers had Autopilot engaged." In the second report, the automaker confirmed that accidents on Autopilot went up to one per 2.91 million miles during the last quarter.
Tesla doesn't include any more detail than that, though. It doesn't describe any common traits between these crashes, or where and when they typically occur. The company also doesn't offer any insight into how often its drivers disengage the system, which has become a go-to statistic in the autonomous vehicle industry.
These systems are undoubtedly a good thing. Cars that prevent crashes and help mitigate some of our worst impulses as drivers can go a long way toward reducing the amount of traffic fatalities every year. But in naming these features, the automakers have prioritized marketing over clarity, Brannon said. "Anything they're working to market, they're looking for differentiation of their product, and trying to describe it in a way that creates excitement for consumers," he said. "But in doing so they've caused a good bit of confusion."
["source=theverge"]