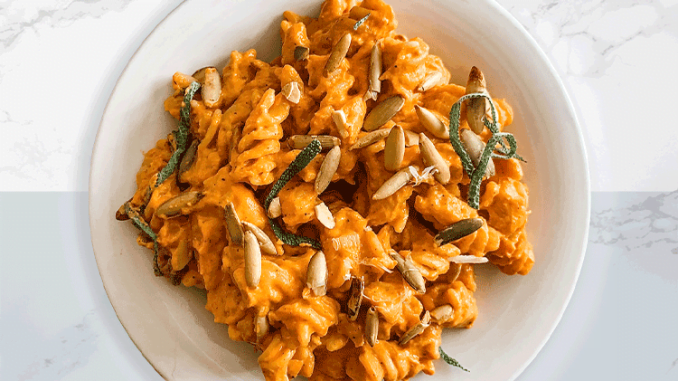 Are you a "hang on to every last drop of summer" kinda person? Or are you more of the "pumpkin spice latte in August" variety? If you're of the latter, this recipe is for you! If you're a summer lover till the clock strikes 12 on September 22nd… give us a few minutes to persuade you! 😉
This 20-minute, savory pumpkin pasta recipe is perfect for fall! Not only is it delicious (like reeeeally delicious), it's also quick, healthy and easy to make. This recipe is vegan, vegetarian, plant-based, and can optionally be made gluten-free. So, whatever dietary restrictions you may have in your household, there's a good chance this recipe will check all your boxes! And let's be honest—any weeknight dinner that everyone can eat and enjoy is a winner in our book.
Speaking of fall recipes, it can be hard (read: impossible) to find pumpkin-based options that are low in sugar, contains protein, and without a heavy cream slowing you down. But that doesn't mean to forgo the fall favorite all together! Afterall, pumpkin is naturally high in beta-carotene which your body turns into vitamin A, rich in fiber which can help keep you feeling fuller for longer, and contains antioxidants that can boost your immune system.
This magically delicious recipe meets all of our health requirements, and bonus! It takes 20 minutes or less to make from start to finish – making it an instant crowd-pleaser for all involved. So whether your vibe this fall is spooky season and falloween…or you're slowly letting go of your sun-filled summer, give this recipe a try and let us know what you think!
Protein Pumpkin Pepper Pasta Recipe – Vegan, Optionally Gluten-Free
Ingredients:
• ½ white onion
• 2 garlic cloves
• 2 tbsp olive oil
• 2 tbsp tomato paste
• 1 cup roughly chopped roasted red peppers
• 1 cup pumpkin purée (NOT pie filling)
• 8 oz pasta of choice (we used quinoa rotini)
• ¼ cup hemp hearts (optional to add protein)
• 1-2 tbsp balsamic vinegar
• Roasted pumpkin seeds, for garnish
Directions:
Roughly chop the onion and garlic, then sauté in olive oil with a pinch of salt and pepper over medium heat until soft, about 5 minutes.
Add the tomato paste and cook for 1 minute.
Stir in the peppers and pumpkin and cook, stirring occasionally, another 5 minutes.
In the meantime, boil 8 oz of your favorite pasta in salted water.
Transfer the pumpkin mixture to a blender with the hemp hearts (if using) and blend until smooth.
Return the sauce to the pan and taste for salt.
Toss with the drained hot pasta and finish with a splash of balsamic vinegar and roasted pumpkin seeds.
Pro Tip: A little sage adds major fall vibes!
Make this meal on busy weeknights, save it for a date night in, or enjoy it solo with a glass of wine, a crackling fireplace and a little side of Hocus Pocus.
["source=jazzercise"]