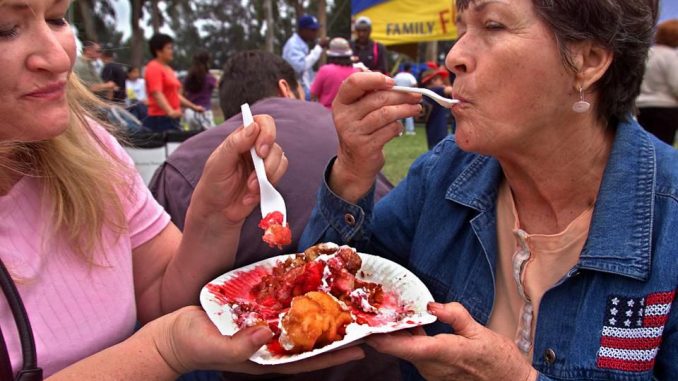 Friday is traditionally desk-cleaning day, so it's our chance to present a round-up of hot stories from the world of travel, including some you might want to take action on this weekend.
Take The Train to California's Strawberry Festival
The California Strawberry Festival takes place in Oxnard, California Saturday and Sunday, May 18 and 19th. This is your chance to overdose on delicious California strawberries and concoctions (strawberry tamales or berry kababs washed down with strawberry beer, anyone?) made with them. The festival also includes kid's shows and contests, like strawberry shortcake eating and the strawberry tart toss—take aim at your favorite face! There's also three stages of music featuring acts like Bruno Mars tribute band Uptown Funk and DJ Travis Holcombe, plus a crafts fair. General admission is $12, while children from 5 to 12 are $5. The festival is open from 10AM to 6:30PM
Amtrak is offering parents an equally delicious deal to bring the family to the festival on Amtrak's Pacific Surfliner. One child rides free on the Pacific Surfliner for each full-fare adult ticket purchased to/from the festival.
Uber Offers Safety Tips
If you travel by rideshare vehicle instead, Uber, fresh from its IPO last week, is now focusing on safety. The company is sending mass emails that read "It starts with safety." My email continued, "Michael, we're committed to helping keep you safe when you ride with Uber. "
Uber provides several tips to help ensure a safe ride. For example, Uber's ride safety website says that before you get into the car, take a moment to double-check the app for your driver's information. (The company doesn't refer to it, but reportedly dozens of assaults have been committed by individuals pretending to be rideshare drivers, such as the murder of Samantha Josephson.) Uber offers three steps to make sure you get into the right car:
Step 1: Match the license plate number.
Step 2: Match the car make and model.
Step 3: Check the driver's photo.
The company also offers additional safety tips, such as have the driver confirm your name (Not "Are you here for Annie?"), to ride in the back seat, (to "give you and your driver some personal space", and to share your trip details with loved ones. You wouldn't think Uber would need to tell customers to "always wear your seat belt," but hey, y'know?
Australia Is American's Top Travel Destination—But They Can't Get There
The vacation rental site VRBO recently did its first US Traveler Survey of top travel destination. The study, which surveyed 1,067 adult American travelers, had some interesting findings. For example, Internet/WiFi access is the single-most important accommodation amenity for American travelers, outranking traditional must-haves like TV and air-conditioning. WiFi is so important that 75% of travelers said they'll seek lodging with Internet/WiFi access, while only 59% percent said they expect to get a TV.
The survey also asked the travelers what were their top dream destinations. Among all survey respondents, Australia was the top destination. However, according to data from VRBO's parent, Expedia, Australia was just the 18th-most-visited destination by American travelers in 2018. The study noted delicately, "The disparity between dream and reality signals that barriers of time and money are the deciding factors for whether Americans will take that dream vacation."
A quick check on Expedia reveals some of those reality-based barriers. For a hypothetical Los Angeles to Sydney trip from June 20 to June 30, the lowest-cost roundtrip we found was on Delta, at $1,175 per person. Adding eight nights of hotel rooms, dining, touring, a rental car and so on will surely bring the total for a couple to over $5000. US median income is only $61,000.
The flight itself takes 14 hours, 45 minutes, which is a long time on a plane. Spending a day traveling down under, and another day coming back, also makes the trip difficult for many Americans who have just two weeks of paid vacation a year. Another problem getting to Australia; just 40% of Americans have passports.
Nonetheless, almost 800,000 Americans visit Australia each year. Older travelers often make the country a "bucket list destination." And Millelenials find a way to get there as well; the VRBO study says that some 37% of the 20 to 40 crowd is willing to go into debt for travel, compared to just 15% of BabyBoomers.
["source=forbes"]