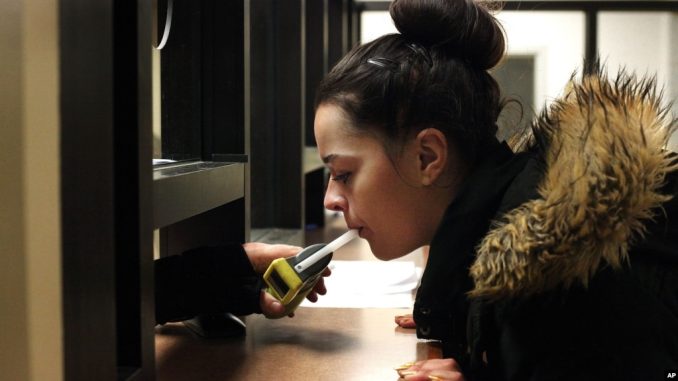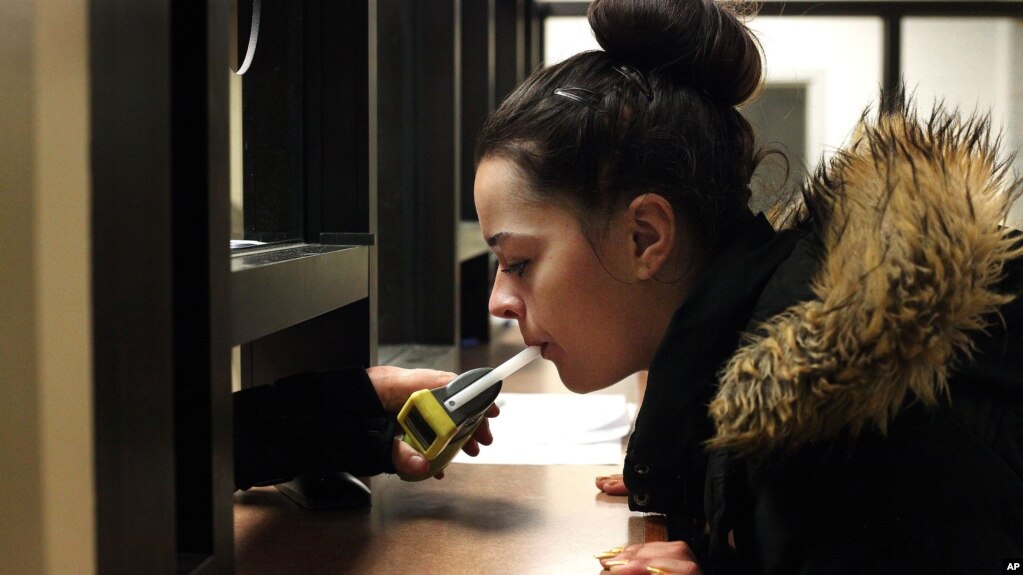 American police have long used breathalyzer equipment to test the blood alcohol level of drivers. Now, with more states legalizing the use of marijuana, similar devices are being developed to measure other drug levels in a person's system.
Unlike alcohol breathalyzers, police have had no devices for measuring marijuana levels during traffic stops. Current methods for identifying drug levels require small amounts of blood, bodily fluids or hair. Such tests can take a long time and only measure recent drug use, not whether a person is currently under the influence.
Two companies recently announced they had created marijuana breathalyzer devices and plan to market them to police agencies. University researchers also released details of a device they developed to provide immediate readings for marijuana levels.
The devices are designed to measure levels of THC, the substance that gives marijuana users the mental state called a high.
California-based Hound Labs Inc. has been developing breathalyzer technology for several years. The company says it has created the world's first device to measure both alcohol and marijuana levels in a person's system.
In late August, Hound Labs announced it had raised $30 million in new financing to boost manufacturing and marketing efforts. The company says its research is backed by a test study involving its breathalyzer device, called the Hound Breathalyzer.
The study, led by researchers at the University of California, San Francisco, found the device can measure THC throughout a three-hour window after a person smokes marijuana. Hound Labs said this finding is important because other major research has shown that people are usually "most impaired within three hours of smoking marijuana."
Mike Lynn is the founder and CEO of Hound Labs. He is also a doctor. He told the Digital Trends website the development process for marijuana breathalyzer technology was complex.
This is because the amount of THC that exists in breath is about "a billion times less than alcohol," Lynn said. "It's like identifying 25 or 30 specific grains of sand on a beach that's well over a mile long," he told the website.
Hound Labs says on its website the device returns THC results within minutes. It can capture two measures, one to find immediate use and one for later. And the company says the device can record recent marijuana use whether the user smoked or ate the drug.
A Canadian-based company called SannTek Labs is also developing a breathalyzer device to measure THC levels. SannTek has the backing of major Silicon Valley technology investor Y Combinator.
The company's website says its breathalyzer can measure both alcohol and THC levels. SannTek says the device was designed to assist officers who suspect drivers they stop may be under the influence, but no alcohol is discovered in breathalyzers.
Researchers from the University of Pittsburgh recently announced that they too had built a breathalyzer to detect THC levels. The team published its results in the journal ACS Sensors.
The researchers say their breathalyzer system uses microscopic tubes of carbon that are about 100,000 times smaller than a human hair. THC molecules attach to the surface of the nanotubes and this changes their electrical properties. "The speed at which the electrical currents recover then signals whether THC is present," a university statement said.
Sean Hwang is a doctoral student in chemistry at the University of Pittsburgh who helped lead the research. He says the carbon nanotube technology used was not available just a few years ago.
Machine learning technology was used to "teach" the breathalyzer to recognize the presence of THC based on the recovery time of the electrical currents, Hwang said. The process works even when other substances, like alcohol, are present in breath, he added.
The manufacture and marketing of such devices is likely to grow in the coming years, especially in states with legalized marijuana. However, if law enforcement begins using such devices, rules would need to be created to define lawful and unlawful levels of THC in drivers.
["source=learningenglish"]